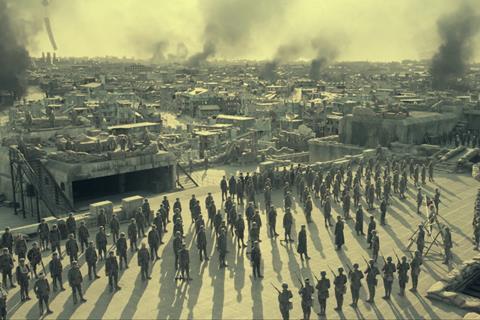 Huayi Brothers' The Eight Hundred has become China's first blockbuster since cinemas reopened, grossing an impressive $79.6m over its opening three days (August 21-23), according to Artisan Gateway, for a cumulative total of $112.3m including previews.
The figures were achieved despite the fact that Chinese cinemas are still operating at 50% capacity to comply with social distancing regulations. Online ticketing platform Maoyan is predicting that the film will go on to gross $336m (RMB2.33bn).
Directed by Guan Hu (Mr Six), the film tells the story of the defence of the Sihang Warehouse in Shanghai in 1937, during which a plucky band of Chinese soldiers attempted to hold off Japanese forces. The ensemble cast includes Ou Hao, Wang Qianyuan, Jiang Wu and Huang Xiaoming.
Audiences have been raving about the film as being a patriotic, tear-jerking and long-overdue return to the big screen experience, which is ironic as Chinese authorities delayed the film's release last summer as it was apparently sending the wrong patriotic messages.
It was also pulled as the opening film of last year's Shanghai International Film Festival, with industry insiders speculating that authorities took exception to its portrayal of Chinese Nationalist forces, which went back to fighting the Communists at the end of the Second World War. It's understood that the current version has undergone some cuts and digitally removed some Nationalist insignia.
The first Chinese movie shot entirely with IMAX digital cameras, The Eight Hundred also gave the large-screen operator a boost, grossing $6.7m from 637 IMAX screens across China.
"After being closed for six months, the performance of IMAX theatres at the Chinese box office continues to exceed our expectations and reinforces our belief that audiences are eager to return to theatres where local guidelines allow," said IMAX CEO Rich Gelfond.
Trailing a long way behind, the 4K rerelease of Warner Bros' Harry Potter And The Sorcerer's Stone took second place in the weekend chart in its second week, grossing $4.1m for a cumulative box office of $23.3m.
Disney's Onward, which opened on August 19, came in third with $1.9m over the three-day weekend, for a cume of $2.6m, followed by Trolls World Tour, which has grossed just $600,000 since its release on August 21. Chinese thriller Sheep Without A Shepherd, which had its initial run interrupted by Covid-19, took fifth position in the weekend chart with $500,000 for a cume of $192.2m.
Little Women and local romantic drama Love You Forever are scheduled to open on August 25, coinciding with Chinese Valentine's Day, while the rerelease of Christopher Nolan's Inception and The Current War, starring Benedict Cumberbatch, are scheduled for August 28. Nolan's Tenet is scheduled as the next major blockbuster on September 4.
Meanwhile, four Chinese films have announced release plans for the upcoming National Day holidays (October 1-8), one of the peak cinema-going periods in China. These include two films that had their Chinese New Year release delayed when cinemas closed due to the coronavirus – Peter Ho-sun Chan's Leap, about the Chinese women's national volleyball team, and animation Jiang Ziya: Legend Of Deification.
Also scheduled for release over the holiday are patriotic omnibus My People, My Homeland, with segments directed by Zhang Yimou and Ning Hao among other leading filmmakers, and local comedy Coffee Or Tea?
However, not many big local titles are scheduled for September, which can be partly explained by the fact that this year's Mid-Autumn Festival, which changes dates according to the Lunar Calendar, is taking place late this year, so has been rolled into the National Day holiday.