Hollywood holds top four spots as Alien: Covenant wins weekend but Chinese films remain weak.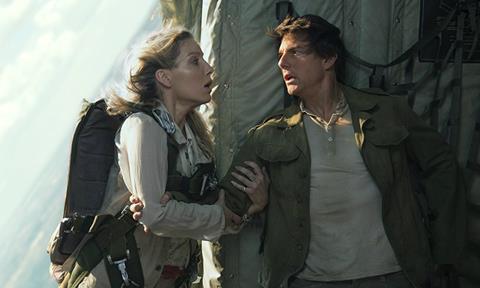 In another lacklustre frame (June 12-18), the Chinese box office dropped by approximately 19% week-on-week.
Hollywood claimed the top four spots while Chinese films continued to underwhelm.
Despite poor word-of-mouth, Universal's The Mummy retained its weekly crown by a whisker with $28.99m for a 10-day total of $80.87m. But with the latest Transformers waiting in the wings, it is unlikely to match the success of Tom Cruise's Mission: Impossible – Rogue Nation, which grossed $126m in 2015.
Fox's sci-fi Alien: Covenant narrowly won the weekend with $28.84m from its first three days, behind its North American debut's $36.16m. But its opening, which was the weakest among the recent four Hollywood films, was not able to dethrone The Mummy from the weekly No.1 and came in a close second overall.
Warner Bros and DC Comics' Wonder Woman slipped to third place with $13.48m for $82.61m after 17 days; ahead of Disney's Pirates Of The Caribbean: Dead Men Tell No Tales which added $7.97m to reach $161.97m after 24 days.
Pirates fared the best among the recent Hollywood blockbusters: it has become the third highest grossing non-Chinese film and the fifth highest grossing film overall this year.
Dangal was still going strong after more than one month and added $6.23m for a whopping $183.94m after 45 days. The Indian wrestling drama about a father who trains his daughters for professional wrestling even overtook Pirates 5 on Father's Day (Sunday).
Already the fourth-highest-grossing film this year, Dangal has surpassed Captain America: Civil War to become the ninth-highest-grossing non-Chinese film ever.
The only Chinese film ranked among the top five was drama Love Without Words about an old man and a dog, which took $2.39m for $2.77m after 10 days.
That film was followed by Return To The Wolves, a local documentary about a wolf cub, on $1.86m from its first three days; youth romance film How Are You on $1.3m for $5.79m after 10 days; Japanese animation Doraemon the Movie 2017: Nobita's Great Adventure In The Antarctic Kachi Kochi on $1.3m for $20.72m after 20 days; and local action thriller China Salesman, starring Steven Segal and Mike Tyson, on $1.04m from its first three days.
Without any strong local contenders, it appears that China has been relying on Hollywood of late to boost its box office. A turnaround is not expected for at least another couple of weeks, as Transformers: The Last Knight is scheduled for June 23.