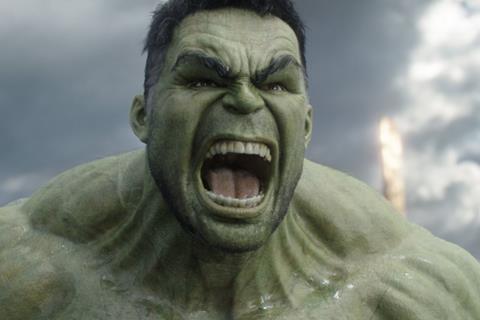 As Murder On The Orient Express failed to take out Thor: Ragnarok, the latter maintained at the No.1 spot at the Chinese box office for a second week, adding $38.7m during Nov 6-12.
Standing at $90.4m after 10 days, the third installment of Disney and Marvel Studios' Thor has surpassed the combined gross of the franchise's first two films. Not only that, it has earned more than Wonder Woman and will soon beat Guardians Of The Galaxy Vol. 2. China has remained a top market worldwide by a large margin.
Fox's Murder On The Orient Express opened top on Friday, but dropped to second on both Saturday and Sunday. The adaptation of Agatha Christie's mystery novel directed by and starring Kenneth Branagh ended up in second place overall with $18m from its first three days.
Another new release is The Brink which opened in a distant third with $6.5m from its three-day opening weekend. The Hong Kong action thriller, which recently premiered at Busan's Midnight Passion, marks the feature debut of Jonathan Li and stars Zhang Jin (Ip Man 3), Shawn Yue (Mad World) and Wu Yue.
Warner Bros' Geostorm dropped further to the fourth with $5.7m for $60.3m after 17 days; ahead of 77 Days's $5.1m for $6.8m after 10 days. The latter is based on a popular Internet novel about a man who travels on foot across an uninhabited area on the Qinghai-Tibetan plateau. First-time director Zhao Hantang stars with Jiang Yiyan in this local wilderness story.
Local 1930s spy thriller Eternal Wave, starring Aaron Kwok, took $3.8m for $10.9 after 10 days, while National Day champion Never Say Die added $2.5m for $312.5m after 44 days from an extended run.
Two new releases followed: Japanese animation Pokémon The Movie XY&Z: Volcanion and the Ingenious Magearna opened with $2.2m from its first two days, narrowly ahead of Perfect Couple's $2.1m from its first three days. The latter is a romance comedy directed by Vincent Kok, with former F4 boy band member Vic Chou and Hong Kong actress Fiona Sit.
Local drama Hold Your Hands rounded out the charts with $2.0m for $15.1 after 31 days.
Coming up this week are Justice League, A Better Tomorrow and The Golden Monk, all scheduled for Nov 17.