Transformers 5 sees big decline but is still top; Chinese films back in charts.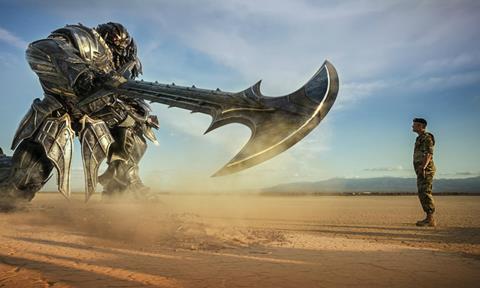 Transformers: The Last Knight retained the No.1 spot at the Chinese box office in the week of June 26 – July 2 but suffered a huge drop compared to its huge opening weekend.
Paramount's franchise added $68.53m for a 10-day total of $193.51m, making it the eighth highest grossing non-Chinese film ever.
While it is on course to overtake Hollywood hits like Jurassic World, Avengers: Age Of Ultron, Warcraft and Zootopia, it is almost impossible to overtake its predecessor Transformers 4's $286.6m (based on current exchange rate).
It made $124.41m from first three days, then $68.53m from the next seven.
As Transformers 5 dropped, last week's box office went down as well, by approximately 26% week-on-week.
Prior to Transformers 5, Hollywood dominated the Chinese box office for the last couple of months, taking most of the top five places. Now Chinese films finally made a comeback.
Reset opened in second place with $17.09m from its four-day opening debut, representing the first local film drawing over RMB1 billion ($14.49m) after the May 1 Labour Day period. Produced by Jackie Chan, the sci-fi thriller follows a mother who travels back in time to save her kidnapped son. It is directed by South Korea's Chang and starring Yang Mi and Wallace Huo.
Wished came in third with $6.76m from its first four days. Directed by Dayyan Eng, the local contemporary fantasy comedy is about a Chinese deity who shows up to help a man who has lost his way in life. The cast includes Xia Yu and Yan Ni who was in surprise hit comedy Some Like It Hot.
Both Zhang Yang's Paths Of The Soul and Herman Yau's 77 Heartbreaks continued to do brisk business despite their limited screenings. The docu-drama Paths Of The Soul, which focuses on a group of Tibetan pilgrims, earned $6.37m for $8.83m after 13 days, while Hong Kong relationship drama 77 Heartbreaks, starring Charlene Choi, added $5.59m for $7.70m after 10 days.
Hong Kong auteur Ann Hui's latest film Our Time Will Come opened in sixth with $4.84m from its first two days, following its premiere at the Shanghai International Film Festival. Starring Zhou Xun and Eddie Peng, the war epic is set during the Japanese occupation of British Hong Kong in the 1940s.
Fox's Alien: Covenant dropped to the seventh with $2.89m for $44.04m after 17 days; followed by local historical war drama Battle Of Xiangjiang River on $1.99m from its first three days; India's breakout hit Dangal on $1.88m for $187.83m after 59 days; and Universal's The Mummy on $1.56m for $90m after 24 days.
With China entering the summer holidays, The House That Never Dies 2 is scheduled for July 6; one day ahead of Despicable Me 3 and The One.