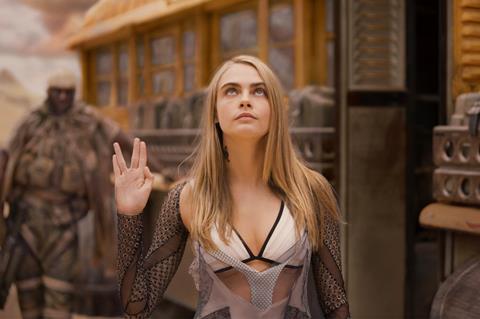 Despite the return of foreign imports which took up over 60% of the weekend screenings, Wolf Warriors 2 has emerged as the first local film to win the weekly crown for five straight weeks.
Wu Jing's Africa-set action drama maintained at No.1 with $38.12m in the week of Aug 21-27, keeping all newcomers at bay. Currently the biggest film of all time in China, the mega-blockbuster's 33-day total has reached $781.59m. Globally, it has surpassed Titanic and Avatar to become the second biggest film in history from a single market, only behind Star Wars: The Force Awakens.
Although Wolf Warriors 2 was still the overall winner last week, its momentum has slowed down. Luc Besson's Valerian And The City Of A Thousand Planets claimed the top spot when it opened on Friday and continued to be the No.1 film with $27.83m over its three-day opening weekend and ranked second overall.
The success in China provided a much-needed boost for the sci-fi extravaganza following its underwhelming performance in North America and elsewhere. Adapted from a French comic series, it is reportedly the most expensive French film.
The Chinese audience will find a familiar face in the film in the form of rising Chinese star Kris Wu who is also recently seen in xXx: Return Of Xander Cage and Journey To The West: The Demons Strike Back.
Valerian is distributed by Shanghai-based Fundamental Films, which became the second largest stakeholder in Besson's company EuropaCorp last year. It will outgross Besson's previous film Lucy, which was also distributed by Fundamental Films in China.
Paradox, the third instalment from SPL action franchise, held well in third place with $23.33m for $63.77m after 11 days, ahead of Cars 3 and Baby Driver.
The Disney-Pixar animation arrived in fourth place with $10.33m from its three-day opening weekend. It has already outgrossed the entire run of the first Cars and almost on par with the second film. It will no doubt set a new record for the franchise in China.
Sony's Baby Driver followed closely in fifth with $9.32m from its first three days. It marks Hot Fuzz director Edgar Wright's first directed film to have a release in China.
The rest of the top 10 were all Chinese holdovers: animation One Hundred Thousand Bad Jokes 2 on $7.54m for $15.94m after 10 days; WWII comfort women documentary Twenty Two on $5.51m for $23.62m after 14 days; animation Seer Movie 6: Invincible Puni on $4.4m for $13.4m after 10 days; crime thriller Guilty Of Mind on $3.91m for $40.87m after 17 days; and another crime thriller Peace Breaker on $2.6m for $9m after 11 days.
More foreign films will enter the chart this week, with Dunkirk and Gintama scheduled for Sep 1. Colour Of The Game will also open on the same day.