Chinese films explode summer box office; Wolf Warriors 2 hits $450m; Once Upon A Time opens on $60m.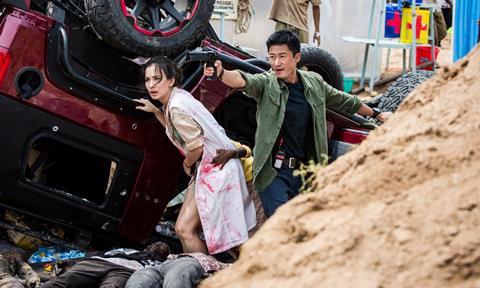 Wu Jing's Wolf Warriors 2 has made history in the Chinese box office as the first film ever to cross $450m within 11 days. After posting a massive debut of $142m, the nationalistic action film continued to smash more records in the week of Jul 31-Aug 6, adding $313.62m for an 11-day total of $455.36m.
Its records include earning over $29m (RMB200m) daily for 10 consecutive days and surpassing Monster Hunt, Furious 7 and Furious 8 by its 10th day to become the second highest grossing film of all time.
Catching up fast with Stephen Chow's The Mermaid, it's on course to outgross the latter to become the biggest film of all time as early as tomorrow. Its final gross is estimated to be at least $579m (RMB4b).
Driven by Wolf Warriors 2's massive performance, each of the five weekdays scored over $43m (RMB300m), with Saturday and Sunday over $72m (RMB500m). Overall, last week's box office hit $408m, making it the biggest non-holiday seven-day week and almost reaching the same level of the seven-day Chinese New Year holidays.
Once Upon A Time opened in second place with $61.59m from its first four days. It was a strong opening (better than recent hit Wu Kong and second best for a Chinese film since Chinese New Year) that could have easily topped the chart if not because of Wolf Warriors 2.
The fantasy romance is based on Tang Qi's novel Three Lives, Three Worlds, Ten Miles Of Peach Blossoms, which has also been adapted as a TV series. The film stars Liu Yifei and Yang Yang and co-directed by Zhang Yimou's regular DoP Zhao Xiaoding and Anthony Molinara.
The Founding Of An Army fell to third place with $18.70m for $48.12m after 11 days. As a tribute to the 90th anniversary of the founding of the People's Liberation Army, it's a nationalistic film like Wolf Warriors 2 but the ensemble film by Infernal Affairs director Andrew Lau did not fare as well. It has yet to beat its two predecessors from the trilogy.
Despicable Me 3, the only non-Chinese title in the top 10, maintained in fourth with $4.35m for $147.39m after 31 days. The Universal and Illumination animation has knocked off Kung Fu Panda 3 to become second highest grossing animation of all time. Although its run has been extended after one month, it's unlikely to reach the top spot held by Zootopia.
It was followed by two local animations: Dear Tutu on $1.93m for $5.03m after 10 days and T-Guardians on $1.80m from its first three days.
Local historical war film The War Of Loong opened in seventh with $1.54m from its first three days; ahead of holdovers Brotherhood Of Blades 2 on $1.01m for $37.97m after 19 days and Our Shining Girls on $0.98m for $8.91m after 18 days.
My Other Home debuted in 10th with $0.83 from its first three days. Directed by Mountain Cry's Larry Yang, the China-set biopic stars basketball player Stephon Marbury as himself in his post-NBA career in China.
The Chinese battle shows no signs of slowing down, with another three high-profile films all scheduled for Aug 11. They are Guilty Of Mind, The Adventures and Legend Of The Naga Pearls.