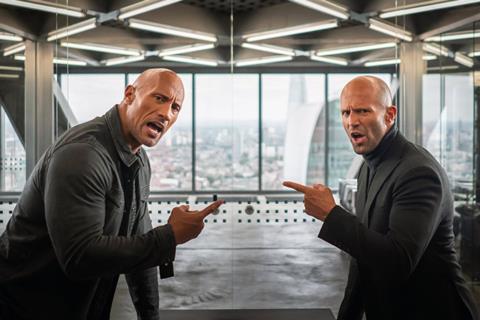 Fast & Furious Presents: Hobbs & Shaw is revving up for what Universal hopes will be a powerful start at the box office in China this weekend.
With an international gross currently standing at $319.2m, the franchise entry opens in China on Friday (August 23) and will easily lead the weekend's international field. The only question is whether the ninth installment – which has so far taken a relatively modest $130.5m in North America - can match the impressive Chinese openings of its two predecessors.
The Fate Of The Furious opened in China with $185m in April 2017 and went on to tally $392.8m from the market. And Furious 7started with $182.4m in April 2015, going on to claim a total of $390.9m.
Hobbs & Shaw will be helped by the fact that what will probably be its closest competition in the territory, homegrown animated smash Nezha, is finally losing its pulling power after four weeks in release.
Universal's domestically successful comedy Good Boys, currently with $3.4m internationally, opened in France on Wednesday (21) and Germany on Thursday (22) and reaches Spain on Friday.
The studio, which also opened A Dog's Journey in France on Wednesday, reported latest international totals of $249.9m for The Secret Life Of Pets 2 and $57.5m for Yesterday.
Sony's Quentin Tarantino hit Once Upon A Time…In Hollywood, which reached $66.2m internationally last weekend, arrives in Mexico on Friday and the studio will be looking for a better debut than those achieved by the director's previous two films: The Hateful Eight opened with just $275,000 in the market four years ago and Django Unchained with $982,000 seven years ago.
Sony's The Angry Birds Movie 2 opens on Friday in Spain, a market where its predecessor started with $1.9m and went on to amass $6.2m.
Disney's The Lion King, having gobbled $964.4m internationally so far, opens in Italy, its final market, this weekend. Prospects appear good, since the territory produced a $6.3m debut for the studio's previous live action remake Aladdin and $7.4m for Beauty And The Beast in 2017.
The Lion King passed $500m at the North American box office this week and will this weekend become Disney Live Action's biggest domestic release ever, surpassing the $504m take of Beauty And The Beast.
Aladdin has now reached $688.3m from the international marketplace, with all territories open, and the studio's Toy Story 4 stands at $598.3m.
Paramount's Crawl, standing at $27.1m internationally to date, opened in Russia and Germany on Thursday and reaches the UK and Spain on Friday. The studio reported latest international grosses of $91.7m for Rocket Man and $14.1m for Dora And The Lost City Of Gold.
CBS Films/eOne's Scary Stories To Tell In The Dark opened in France on Wednesday and hits the UK on Friday.