IMAX will have 500 Chinese sites within a couple of years, with that number potentially rising to 1000.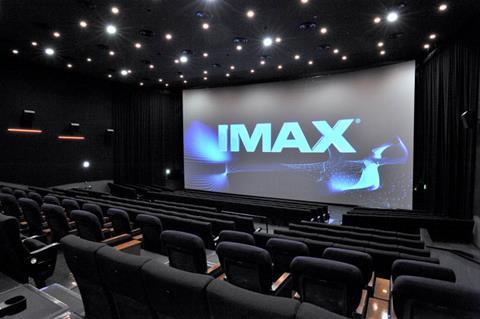 Speaking to ScreenDaily, IMAX CEO Richard Gelfond and EMEA president Andrew Cripps emphasised the progression of the Chinese market and its rapid growth, which will culminate in it overtaking the company's US presence.
"China will catch North America in the next couple of years", said Gelfond.
IMAX currently operates 275 sites in Greater China, including 260 on the mainland, but has a backlog of deals for new locations that will double the current figure.
"It's just the timing that varies," Cripps explained. "The backlog are all signed commitments."
Looking forward, the company has identified up to 1,000 zones across China for IMAX sites, including the more than 500 that are already open or imminent in the backlog of deals.
By comparison, the company has 434 open sites in North America but fewer in backlog.
Gelfond also stressed that the number of sites was not the only factor worth considering when analysing the size of different markets.
"In the US, the average consumer goes four times a year to the movies, in China they go a half a time a year, which affects the potential growth cycle," said the IMAX CEO.
"As [China] economically develops and the standard of living goes up and the middle class increases, that could go higher.
"In China, IMAX is thought of as an affordable luxury. You might fantasise about buying a Ferrarri but it's not in your means. But IMAX is within a normal person's means."
Chinese film output expanding
The company is also expanding its Chinese film output. In 2014, IMAX released six films in the Mandarin language. This year the number will be eight.
One of those releases, Monster Hunt, generated $27m at the Chinese box office in IMAX, contributing to the film going on to gross $380m in total, making it the country's highest-grossing film of all time.
"As China's box office increases, the production values are going to increase, the VFX will get better, the budgets will get higher, and that'll be a bigger and bigger opportunity for us," said Gelfond.
"We also raised a $50m film fund in China with CMC. We'll invest in the right Chinese movies, ones that will be released in the IMAX network. We'll partner with the studios there and put in $4m-$7m per movie."
Japan potential
Another market that IMAX has identified as potentially high-growth is Japan. The company currently operates 25 theatres in Japan, and recently opened its first with a major cinema chain, Toho, in Tokyo's Shinjuku district.
"That's one of our brightest future markets," Gelfond said, "We have a number of negotiations going on in Japan."
Record-breaking year
IMAX is having a bumper year, with Jurassic World, Avengers: Age of Ultron and Mission: Impossible – Rogue Nation all proving hits, with both Spectre and Star Wars: Episode VII – The Force Awakens yet to make their expected significant contributions to the global box office.
IMAX's total global gross for the year-to-date is $698.9m.
"There's no doubt it will be a record year," added Gelfond. "IMAX's global box office this year will top $1bn."