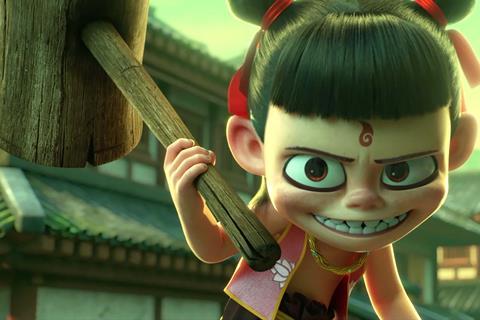 China's box office increased by 5.4% to $9.2bn (RMB64.3bn) in 2019, according to figures from the China Film Administration, mostly off the back of a small number of out-sized local releases.
Local films accounted for 64% of total box office with a combined haul of $5.9bn (RMB41.2bn), despite a slowdown in local production due to increased censorship and the fallout from the tax scandal in 2018. Hollywood and other imported titles saw their market share decline further as Chinese films had a 62% market share in 2018 and 54% in 2017.
Indeed, just two US studio films made it into the year-end top ten – Disney's Avengers: Endgame, which came in third with RMB4.24bn, and Fast & Furious Presents: Hobbs And Shaw, which scraped in at number ten with RMB1.43bn. Local animation Ne Zha headed the year-end chart with RMB5bn, followed by sci-fi epic The Wandering Earth with RMB4.68bn (see top ten chart below).
CFA also reported that China added 9,708 screens last year for a total of 69,787 and that more than 1.7 billion tickets were sold.
While the 5.4% growth would be a relief to market regulators, it was much less than the previous year, when box office increased by 9%, and suggests that the years of breakneck double digit growth may be over. Local media has been spinning this as a rationalisation of the market, as well as observing that the growing market share of local films is a sign they are improving in quality. While this is true, some local films – including Ne Zha and patriotic omnibus My People, My Country – also received a last-minute windfall when the CFA said it had ordered checks and discovered some previously unreported revenue.
Meanwhile, local ticketing platform Maoyan observed how the market is becoming increasingly polarised with just six movies that had grossed more than RMB2bn accounting for 36.9% of total revenue in 2019.
Revenues for local films are also heavily skewed towards four peak box office periods – Chinese New Year, summer, National Day in October and the December/January season – which between them account for nearly 50% of total admissions. In 2019, the National Day holidays marked the 70th anniversary of the founding of the People's Republic and saw a flurry of patriotic local releases, including My People, My Country, The Captain and The Climbers.
While there are no major anniversaries this year, some of the upcoming Chinese New Year releases have a patriotic flavour, including Dante Lam's The Rescue, about a rescue unit within the Chinese Coast Guard, and Peter Ho-sun Chan's Leap, about the Chinese women's national volleyball team.
Other releases scheduled for the Chinese New Year holidays (January 24-30) include action comedies Detective Chinatown 3 and Lost In Russia, Jackie Chan action thriller Vanguard and animated title Boonie Bears: The Wild Life. Also scheduled for release over this period is long-delayed family adventure Into The Rainbow, a China-New Zealand co-production, produced by the UK's Iain Brown, which first played at film festivals in 2017.
CHINA BOX OFFICE 2019 TOP TEN
TITLE/RELEASE DATE/BOX OFFICE
1. Ne Zha (28/07) RMB5bn
2. The Wandering Earth (05/02) RMB4.68bn
3. Avengers: Endgame (24/04) RMB4.24bn
4. My People, My Country (30/09) RMB3.12bn
5. The Captain (30/09) RMB2.9bn
6. Crazy Alien (05/02) RMB2.21bn
7. Pegasus (05/02) RMB1.72bn
8. The Bravest (01/08) RMB1.7bn
9. Better Days (25/10) RMB1.55bn
10. Fast & Furious Presents: Hobbs And Shaw (23/08) RMB1.43bn
Source: Maoyan