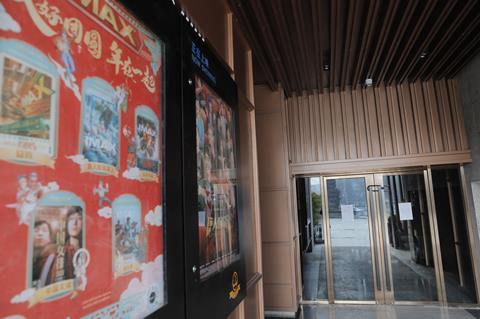 Chinese and Hong Kong buyers and sellers will have a significantly reduced presence at this year's European Film Market (EFM), thanks to the COVID-19 coronavirus, which has derailed the industry's travel plans.
The outbreak, which has so far sickened more than 75,000 worldwide and resulted in over 2,000 deaths, has also postponed another major market, Hong Kong's Filmart, from March to August.
But the disruption to the international film circuit is just the tip of the iceberg of a much more serious consequence of the outbreak – the devastation it has wrought on the mainland Chinese film industry, where cinemas have been shuttered since January 24, wiping out the Chinese New Year box office, the most lucrative period of the year.
All production activity has also been suspended since early February, although the country's biggest facility, Hengdian Studios, partially reopened last week. However, it is likely to take much longer for cinemas to reopen, with some exhibitors predicting it could be the end of April or even later before the market starts to crank up again.
To put this into context, box office takings during this year's Chinese New Year holidays (Jan 24-Feb 12, 2020) were just $3.9m (RMB27.5m), according to theatrical consultancy Artisan Gateway, compared to $1.5bn (RMB10.6bn) during the holiday period (Feb 5-24, 2019) the previous year.
Chinese producers, distributors and cinema chains are not the only ones feeling the pain. Total box office for all imported films, including non-Hollywood, for the year to February 16 was just $37.8m (RMB264.9m), compared to $267m (RMB1.87bn) for the same period in 2019.
All Hollywood titles are currently on hold until cinemas reopen, at which point the US studios will have to wait for the China Film Administration to reschedule each release. Films postponed so far include Universal's Dolittle, Disney's Mulan and Paramount's Sonic The Hedgehog, along with Oscar titles Jojo Rabbit, Marriage Story and Little Women.
Meanwhile, with shooting suspended, the pipeline of local productions is likely to dry up later in the year, once the current backlog has been cleared. And as China's film regulators try to ensure that local films account for more than 50% of box office in every calendar year, that means upcoming Hollywood releases may also be restricted. Even with a busy summer season, it looks unlikely that China's box office will overtake North America as was predicted to happen this year.
Government bailouts
These are heavy burdens for an industry that was already suffering from tighter censorship and the fallout from the tax clampdown. A recent report by tech giant Tencent also points to deeper infrastructure problems: box office growth was only 5.4% last year, and while the market reached record revenues of $9.2bn, average occupancy rates in Chinese cinemas hit a five-year low.
The biggest victims of the rout will be China's cinema chains, which still have to bear the costs of rent, utilities and manpower, despite having zero income while screens are darkened. But production and distribution companies are also suffering, and – despite measures to lower costs, including paying staff minimum wages – many firms are likely to go bankrupt.
Not surprisingly, the industry has made open calls to the government for emergency relief measures and financial support. Online forums have been full of suggestions about what is needed – from tax cuts and low-interest loans, to an extension of the May Labour Day holidays and the introduction of a long-requested, but still non-existent, film ratings or classification system. Some exhibitors have called for the 5% levy on box office by the China Film Fund to be returned, while others have proposed that all taxes and fees paid in 2019 should be refunded.
Bong Joon Ho's multiple Oscar wins for Parasite has also contributed to industry debates, with many observing the extent to which the South Korean government has supported its local film industry, and calling on the Chinese government to do the same.
In recent weeks, there has been some response, with Chinese central and provincial governments sending out questionnaires to assess the extent of the coronavirus' impact and asking industry execs what should be done. Last week, the Beijing Film Bureau said it planned to offer financial support, although it was light on details, and this week Jiangsu and Zhejiang provinces also announced support measures, including subsidies and tax incentives.
But on the whole, the industry appears to be feeling that the measures are, so far at least, not extensive enough to mitigate an unprecedented situation. Some remember that China's cinemas were closed for nearly two months during the Sars outbreak in 2003, but at that time Chinese box office was a fraction of what it is today, and not nearly so much investment, overhead and manpower was on the line.
Online boost
The only beneficiaries of the current situation are China's streaming sites, along with short video platforms, such as Douyin and Kuaishou, which have become the major form of entertainment with most Chinese citizens stuck at home. Hits during the outbreak have included iQiyi's documentary series, The Chinese Doctor, while UGC content, especially from vloggers in Wuhan, the epicentre of the outbreak, are racking up millions of views.
In addition, some postponed Chinese films, including Lost In Russia and Enter The Fat Dragon, have premiered online, although Chinese authorities appear to have recently put a stop to that practice.
The biggest worry for the theatrical end of the industry is that even when cinemas reopen, the viewing habits of Chinese audiences may have been permanently altered. When Sars finally receded, people quickly flocked back to cinemas, hungry for entertainment and bored of their enforced confinement. But then back in 2003, watching interesting content in the safety of your own home, whether on streaming services or short video apps, wasn't really an option.