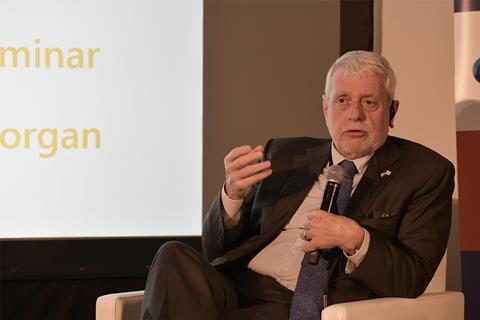 China-based producer Andre Morgan gave an in-depth overview of the seismic changes currently reshaping mainland China's film industry in an MPA workshop at TIFFCOM, saying the local production sector is facing its "year of reckoning".
In a wide-ranging talk that also covered the Japanese film industry and offered helpful tips for up-and-coming producers and directors, Morgan described the phenomenal growth the Chinese film industry has undergone since the early 2000s – and how that has resulted in inflating the costs of actors, directors, technicians and other talent "to the point that it makes no commercial sense".
"They kind of overshot the market so an awful lot of dumb money went into the industry," said Morgan. "So now the government has stepped in and said they have to clean this up – get rid of the fake invoices and get everyone to start paying their taxes – actors, directors, producers and investors. So they have until the end of this year and come January it will be open season on anyone who hasn't paid their back taxes."
He continued: "I think next year will be a bloodbath because it will be like the year of honesty, the year of reckoning – a lot of money will be written off, because there were so many movies being made that made no economic sense."
But Morgan added that the final results could be positive: "I suspect that in 18 months we will have a leaner and more vibrant film industry that will pay a lot more attention to commercial needs. It's not so dissimilar to what has gone on everywhere else in the world."
Now based in Shanghai, Morgan worked with Golden Harvest in Hong Kong in the 1970s, helping to bring stars like Bruce Lee and Jackie Chan to the world, and co-founded the Ruddy Morgan Organization with Albert S. Ruddy in the mid-80s.
He moved to China at the end of the '90s and has since produced films such as Peter Chan's Perhaps Love, James Ivory's The White Countess and most recently hacker crime drama Reborn, a Hong Kong-China co-production featuring Japanese star Tomohisa Yamashita.
Morgan also talked about China's recent forays into Hollywood, comparing it to the era when Japanese corporate giants started acquiring US studios: "They went in with money but no real understanding of how Hollywood worked and got their pants handed to them. In China, they didn't understand how market forces had to work even in China, and they're paying that price now. But you will find serious players, like Bona, who are still looking to do co-productions because it spreads the risk around."
Moving on to Japan, Morgan told attendees of the workshop – jointly hosted by the Motion Picture Association (MPA), Digital Hollywood University (DHU) and TIFFCOM – that "Japan is still an important market" and that there is plenty of opportunity for China and Japan to work together: "Culturally you have a lot in common with the Chinese and with the way that the Chinese film industry is structured.
"You will find changes in the Chinese attitude towards Japanese content. You have common myths, folklore – you can do those stories, it's just about doing them well – but what Japan can do is stories about contemporary people with contemporary problems, because Japan has been living with all those problems that are now just coming to affect the urbanised Chinese population, especially young Chinese."
Morgan stressed the importance of watching young China, which is "more and more looking culturally to Japan and South Korea for fashion and taste, and less and less to America and Europe.
"So it's about finding the commonality of stories that people can relate to. Obviously there are areas of political history you have to stay away from – but a lot of clichés from the last ten years are being toned down here in Asia. Certainly the anti-Japanese rhetoric in China has been toned down tremendously in the past year."
Morgan's master class was followed by a pitching session by five young Japanese filmmakers. Noriko Yuasa won the top prize for her project Before The Earth Collapses: A Family On Fire and will be hosted by the MPA on a trip to Los Angeles to network with US studios executives and talent agents.
Emi Saito with her project, Birth Cry In Rainbow Colors, was selected to attend the Asia Pacific Screen Awards in Brisbane, Australia, where she will have the opportunity to pitch for funding from the MPA APSA Academy Film Fund.
The workshop was held on the last day of TIFFCOM, which took place at Sunshine City in Ikebukuro from October 23-25.