The head of Le Vision Pictures announced to a high-powered Beverly Hills crowd on Monday a deal to distribute Gods Of Egypt in China and unveiled the inaugural 10-strong slate from Los Angeles-based off-shoot Le Vision Pictures USA.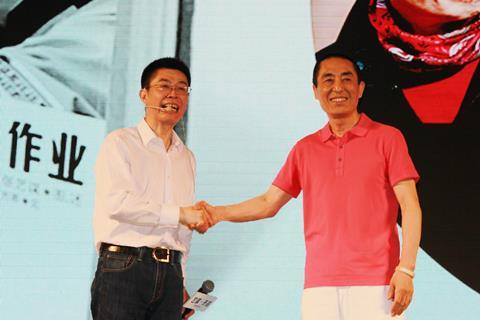 It is the latest splashy show of cross-cultural intent from China in less than a week after Bona Film Group's $235m investment in the Fox slate and Bruno Wu's $1.6bn film and TV fund.
Le Vision Pictures CEO Zhang Zhao, who also serves as vice-chairman of parent tech company Letv, outlined a self-styled 'G2' philosophy he said was founded on openness and connectivity.
According to insiders Zhao is expected to reveal further deals on Lionsgate titles in due course. Le Vision released Expendables 2 and 3 in China.
However he used Monday night at the Sofitel Hotel in Beverly Hills to tell a high-powered crowd including Zhang Yimou (pictued at right with Zhao at a previous event) about the 10 titles on the initial slate and recap two announcements from earlier in the day.
The full 10-strong slate is: fantasy adventure 8 Immortals – Portal To The Demon World; Mandate Of Heaven, a sci-fi version of the Chinese epic Water Margin; Ronny Yu directing Rise Of The Great Warriors; The Valley Life, an adaptation of a Chinese web novel about Chinese programmers in Silicon Valley; and adventure Snow Beast.
Rounding out the slate are: fantasy King Of Kings; fantasy adventure The Sun Chaser; fantasy romance Peony Pavilion based on a Chinese romantic tragedy; a reinterpretation of the opera Turandot; and the previously announced Zodiac: The Year Of The Snake with Bernie Goldmann attached to produce.
Earlier in the day it emerged that Le Vision Pictures USA had struck a two-film pact with The Lion King director Rob Minkoff and teamed up with Dark Horse Comics to adapt and develop six original Chinese graphic novels.
The Minkoff collaborations will be on live-action comedy Silkworms and animation Wolf Totem.
The Dark Horse agreement will see the partners adapt Chinese-language graphic novels into English and develop feature versions. The titles are The Path To Immortality, The Descendants Of Straw Mountain, Gods Of China, The Naughty Queen, Magical Days and P.A.I.U. - Paranormal Activity Investigation Unit.
Attendees at the Sofitel Hotel included Lionsgate COO Brian Goldsmith, Minkoff, Fox International Productions head Tomas Jegeus, Dark Horse svp Keith Goldberg and producer Goldmann. Former mayor of Los Angeles Antonio Villaraigosa opened the proceedings by welcoming Zhao to the stage.
Le Vision Pictures is making The Great Wall with Yimou and Legendary East and Universal Pictures in what has been called the most expensive US-China collaboration in history. Matt Damon and Willem Dafoe star.