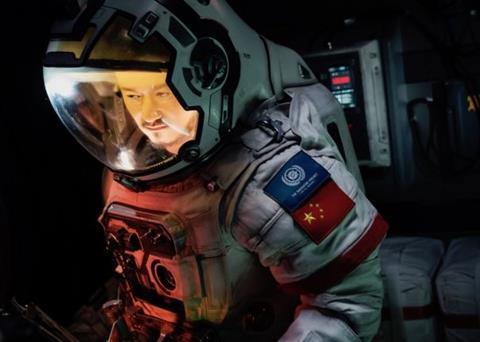 UPDATE (Feb 19): The Wandering Earth held on to top spot at the international and global box office with ease thanks to an estimated $96.9m session, while Alita: Battle Angel leap-frogged DreamWorks Animation's How To Train Your Dragon: The Hidden World with $56.2m to ensure it finished top of the Hollywood pile.
Meanwhile Aquaman is days away from crossing $800m internationally, and Ralph Breaks The Internet breached the $300m international and $500m global box office barriers.
CHINA UPDATE
The progress of Frant Gwo's Chinese sci-fi The Wandering Earth since last weekend's Chinese New Year holidays once again demonstrates the might of local box office and the kind of numbers Hollywood seldom achieve.
The film, which recounts an outlandish mission by astronauts to save humanity, now stands at $606.9m and $609.3m, respectively.
The comedy Crazy Alien was also in good form for Chinese cinema and added $28.2m for $318.5m. Pegasus brought in a further $25.8m for $238.5m.
FOX INTERNATIONAL
Alita: Battle Angel flew the flag for Hollywood as it overtook How To Train Your Dragon: The Hidden World in a solid $56.8m session powered by mostly European number one debuts as it surged to a $94.9m international running total from 85 markets. Combined with the $37m number one North American debut, the early running total for the animation about a female cyborg on an identity quest directed by Robert Rodriguez stands at $131.9m.
Russia led the way with $6.9m for number one. Next was France on $5.8m for second place heading into the school holidays, then Mexico on $4.1m for number one, Australia on $2.97m for number one, and Germany on $2.85m for number two. Fox International scored its fifth highest debut of all time in Thailand with a $2.5m number one debut, and there were more table-topping bows in Spain and Brazil on $1.99m and $1.6m, respectively.
Vietnam generated another impressive debut in a recent streak that started over the Tet lunar holiday, as Alita earned $1.5m for number two. Italy produced $1.2m for fourth place. South Korea delivered the best hold, adding $2.5m at number five for $14.7m after two, while the UK produced $1.8m at number four for $7.4m after two. Alita opens in China this week and co-writer and producer James Cameron will be on the ground to drum up support for what is expected to be a strong debut.
The smash hit Queen / Freddie Mercury drama Bohemian Rhapsody starring Rami Malek stands at $641.7m from 55 international markets. The highlight of a $3.9m session overall was a modest drop in Japan that added $1m for a sensational $104.2m running total after 15 weekends. The UK has generated $69.1m after 17, Australia $38m after 16, Germany $33.3m after 16, Holland $22.6m after 16, and Czech Republic and Slovakia an extraordinary $13.4m after 16.
Yorgos Lanthimos' Restoration Comedy farce The Favorite featuring the dynamic trio of Olivia Colman, Rachel Weisz and Emma Stone added $3.6m for $45.4m from 47 and opened in Japan on $473,626. The UK remains the lead market on a mighty $19.4m after seven. Family adventure The Kid Who Would Be King used $938,138 to reach $6.8m from 22 and the highlight of the session was an $863,743 in the UK.
UNIVERSAL PICTURES INTERNATIONAL
DreamWorks Animation's How To Train Your Dragon: The Hidden World brought in $21.9m for a solid $175m from the relatively early stages of release, with the film set to debut in North America this week (22). Poland and Ecuador delivered franchise-best number one debuts on $1.9m and $632,000, respectively.
France led holdover business on $3.8m for fourth place and a $12.6m tally after two sessions, followed by Germany on $3.3m for number one and $11.5m after two. In the third weekend The Hidden World generated $2.2m in the UK for number three and $14.9m, and $1.6m in Mexico for number three and $17.4m. Italy has produced $7.6m after three weekends, Brazil $13.7m after five, and South Korea $9.9m after three. The family animation arrives in Russia, Spain and Japan this week.
Horror sequel Happy Death Day 2U ventured into its first 41 territories and delivered $11.6m day-and-date with the number five North American debut. Highlights included a $2.2m number four debut in South Korea and a $973,000 number nine release in France, as well as $949,000 for number four in Germany, and $941,000 for number six in the UK. Also of note, Universal's biggest horror opening day admissionis total of all time in Peru on $448,000 for number two, and $864,000 for number two in fast-rising Indonesia. The 2017 original finished on $69.8m.
Mary Queen Of Scots stands at $23.4m following a $900,000 weekend haul in 29. The historical drama starring Saoirse Ronan and Margot Robbie has reached $10.9m in the UK after five weekends and ranks fifth.
WARNER BROS PICTURES INTERNATIONAL
The Lego Movie 2: The Second Part brought in $12.1m from 69 markets to raise the early tally to $34.6m as the worldwide score climbed to $103.4m. The UK produced the comedy's biggest result of the session, staying top on $3.2m for $9.6m after two weekends. The 2014 original finished on $56.9m, a result that looks out of reach for the sequel and was easily the original's best international result when all was said and done. However Lego Movie 2's UK gross is performing well against 2017's The LEGO Ninjago Movie, which finished up on $13.1m in the territory.
In other highlights, the new film earned $1.5m in its Mexcian debut, and after two weekends it stands at $2.8m in Russia, $2.3m in Poland, $2.1m in Germany, $1.5m in Spain, and $1.3m in Brazil. The Lego Movie 2 opens in France and Italy this week.
Clint Eastwood's drug courier drama The Mule delivered $4.6m from 44 markets for a $40.2m international running total and $143.5m worldwide. The second weekend in Italy produced $1.7m for number two and $4.9m running total, while fourth sessions in the lead market France and Australia generated $1.2m for $12.5m, and $511,000 for $5.4m, respectively. The Mule opened in Brazil on $314,000.
Aquaman crossed $800m after $3.3m from 2,090 screens saw the international running total swell to $800.7m, while the worldwide tally stands at $1.13bn. The second weekend in Japan delivered $2.2m for $8.8m, and the top three markets are China on $291.8m, South Korea on $39.1m, and Brazil on $35.9m. The UK has produced $28.6m. Creed II added $1.4m from 39 for $95.5m, and $211.1m worldwide. The leaderboard sees France at the top on $14.3m, followed by the UK on $12.8m, and Italy on $8.2m. The boxing drama debuts in South Korea this week.
GREEN BOOK
True-life drama Green Book starring Viggo Mortensen and Mahershala Ali grossed $9.8m from a combined 50 Lionsgate and Amblin Partners markets to reach $61.5m internationally, rising to $127.4m worldwide factoring in the $65.9m North American tally via Universal.
The drama stands at $6.9m in France after four weekends, and $5.7m on Italy after three. Amblin Partners markets brought in a further $4.4m to reach $27.5m. Key markets include the UK, where the film stands at $6.8m after three weekends, and Australia ($5.4m after three). Amblin Partners will release the film in China on March 1.
WALT DISNEY STUDIOS MOTION PICTURES INTERNATIONAL
Glass grossed $3.6m from 44 for $130.2m, and $234.8m worldwide. The finale in M Night Shyamalan's genre trilogy has grossed $13.4m in lead market the UK, followed by Mexico on $10.7m, and Russia, France and Germany on $10.6m, $10.1m, and $8.7m, respectively.
Ralph Breaks The Internet crossed $300m internationally and $500m worldwide as $7m from 28 material territories propelled the tally to $306.8m, and $7.9m worldwide elevated the running total to $505.4m. The animation sequel opened well in France on $4m including previews heading into school holidays. China is the lead market on $39m, followed by Japan on $34.7m, the UK on $23m, Mexico on $17.4m, and Brazil on $17m.
Mary Poppins Returns has reached $171.1m internationally after a $2.3m session in 20, and the worldwide haul stands at $341.5m. South Korea was the final territory to open on $900,000 including previews. The UK remains by far the lead market on $55.4m, then Italy on $14.7m, Australia on $13.8m, France $11.4m, and Spain $10.8m.
PARAMOUNT PICTURES INTERNATIONAL
The comedy Instant Family starring Rose Byrne and Mark Wahlberg grossed $4.4m from 21 markets to stand at $37.3m, powered by a $3.1m number two debut in the UK. The film has grossed $8.9m after six sessions in Australia, $2.7m after three in Germany, and $1.3m after three in Netherlands.
Comedy remake What Men Want starring Taraji P. Henson brought in $2.2m from six markets as the early running total climbed to $2.5m. Australia was the highlight of three debuts, delivering $1.7m in second place.
SONY PICTURES RELEASING INTERNATIONAL
This was a notable weekend for four local-language films, which collectively earned $9m through SPRI. Alexey Nuzhnys Russian comedy Loudspeaker (Gromkaya Svyaz) opened in second place on $3.3m in Russia and is a remake of the Italian box office hit Perfect Strangers, in which dinner party friends share their texts and calls to prove they have no secrets.
Boda De Mi Mejor Amigo, a local remake of the 1997 romantic comedy My Best Friend's Wedding, opened at number two in Mexico on $2.6m. French crime caper Nicky Larson And Cupid's Perfume (Nicky Larson: Le Parfum De Cupidon) added $2.6m for $7.4m heading into those French school holidays. Finally Under The Same Roof (Bajo El Mismo Techo) added $500,000 in its third weekend in Spain to reach $3.3m.
The horror release Escape Room added $3.6m from 44 markets as the running total reached $59.6m. Family feature A Dog's Way Home stands at $19.9m from 25 Sony markets.