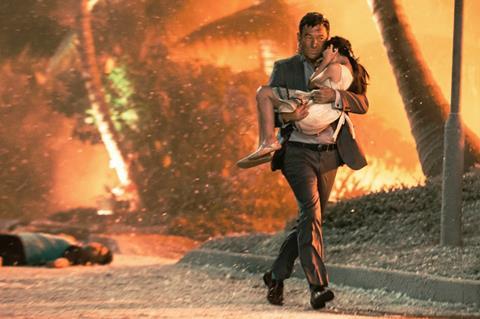 Screen Media has picked up all North American rights from Highland Film Group to Meridian Entertainment's Chinese disaster film Skyfire starring Jason Isaacs and Hannah Quinlivan.
Simon West (Con Air and Lara Croft: Tomb Raider and The Expendables 2) directed the English-language film, which debuted in China in December 2019.
Xueqi Wang and Shawn Dou round out the key cast on the story of a young scientist who tries to convince a resort owner to evacuate the world's only volcano theme park when the once dormant geological feature shows signs of erupting.
Screen Media plans a December release.
Jennifer Wenjie Dong produced Skyfire, and West directed from a screenplay by Will Wei Bu and Sidney King.
VFX producer and co-founder of legendary effects house Rhythm & Hues John Hughes collaborated with several other effects companies
"Skyfire is China's first international production and is truly a movie made by the world, for the world," said Dong. "We hired top-tier creative talents from 17 countries, spent five years developing the film and we have tried our best to present an amazing VFX feast for a global audience."
Seth Needle, SVP of global acquisitions and co-productions, negotiated the deal for Screen Media with Highland Film Group COO Delphine Perrier on behalf of Meridian Entertainment.