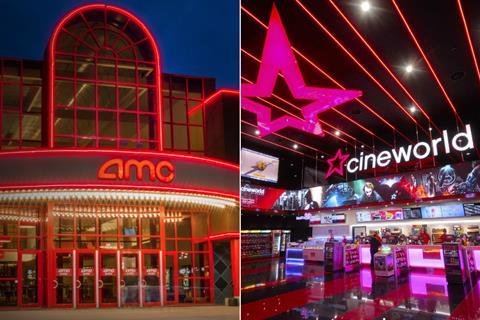 The stock market value of at least two major international cinema chain owners has risen amid a 'short squeeze' on typically low-value stocks, coordinated on social news website Reddit.
The value of AMC Entertainment Holdings Inc on the New York Stock Exchange (NYSE) has risen from $5 per share at 4pm EST on Tuesday, January 26, to $19.90 at 4pm by the same time the following day.
The US company owns AMC Theatres, the world's largest cinema chain by number of venues with 978 cinemas; as well as Odeon Cinemas Group, Europe's largest cinema operator with over 360 cinemas including 120 in the UK.
Private equity firm Silver Lake eased AMC's debt load by converting a $600m bond into stock. In 2018 Silver Lake put $600m into AMC through a debt offering and helped the exhibitor by renegotiating terms last year.
The value of shares in UK-based Cineworld Group have risen from £63.84 per share at 2.30pm GMT on Monday to a high of £85.26 at 9.30am on Wednesday. The share price was £75.32 at the time of writing (12pm on Thursday, January 28).
The rapid increases - known as a 'short squeeze' - are caused by individual investors and 'non-professional' stock buyers, many of whom use the messageboard r/wallstreetbets on Reddit.
Individuals are buying up stock in response to 'short selling' by hedge funds – a practice by which traders borrow stock they expect will decrease in value, sell them quickly then rebuy them once the price has dropped.
Shares in cinema chains have decreased in value significantly since the beginning of the Covid-19 pandemic; traders expected that decline to continue amid ongoing lockdowns, but the recent action has reversed that trend.
Many individual buyers and those in the Reddit-led movement regard it as a rebellion against the market control of hedge funds, and retribution for the 2008 financial crash.
It has been most notable in the stock of GameStop, a US retail outlet of physical video games, which has seen its share price rise from $68.70 at 1.30pm EST on Monday to a peak of $372.74 at 11.00am EST on Wednesday. Ahead of the NYSE's 9.30am EST opening on Thursday, GameStop's pre-market share price had reached a peak of $513.12.
Cineworld owners
The market volatility comes days after Cineworld shareholders approved an incentive plan for CEO Moshe 'Mooky' Greidinger and his brother, deputy CEO Israel Greidinger, based on Cineworld's market performance.
If Cineworld stock hits its pre-pandemic price within three years, the brothers will receive shares worth at least £33m each.
Cineworld said 70.15% of votes cast were in favour of the incentive policy.
Shareholders also approved incentives for the company's finance boss and other top executives.
All Cineworld venues in the UK, plus the company's Regal Cinemas chain in the US, are currently closed. In December last year the company pledged to reopen its venues by the end of March 2021; however ongoing lockdowns have thrown doubt over those plans.