Habits of Millennials, dynamic pricing come under microscope at convention; tech companies unveil latest product launches.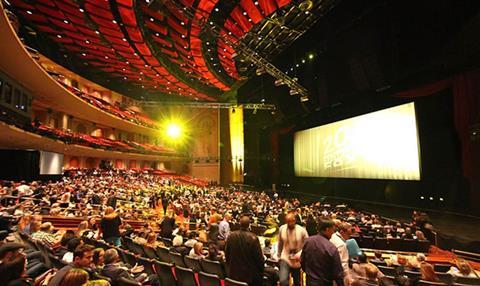 Content creators should forget traditional advertising methods to reach audiences and get in touch with the 'engagement spiral', an expert on Millennials told convention attendees on Monday.
'The 'spray and pray' approach to engaging customers has become obsolete, Jake Katz, vice-president of audience insights and strategy at Sean 'Diddy' Combs' digital network Revolt Media and TV, told industry delegates at CinemaCon.
Instead of adhering to the old philosophy of advertising, awareness, trial and conversion, and loyalty, Katz said industry and content creators should regard themselves as part of the 'engagement spiral and push out their brand across social platforms that are meaningful to Millennials.
Furthermore the youth insights expert and strategist said content creators should keep in mind the 18-35 demographic wants real-life experiences, bears the distinction of being more cross-culturally experienced than any generation before it, and as a group is widely diagnosed with ADHD.
Katz, whose session was called 'Beyond The Banter: Millennial Consumer Best Practices & Cultural Truths', said that while Millennials have been portrayed as the 'Me me me' generation, they in fact feel the same angst over identity and lack of connectedness as previous generations of youngsters.
The key, he said, was to find the right channels to reach them. While youngsters do not regard Facebook as "cool", it remains a leading platform for establishing contact with peers and the outside world.
YouTube is a valuable source of intelligence, given that one-third of daily users want to see their favourite YouTube star in a feature.
Instagram is an important tool for self-expression, although Katz noted users view it as a popularity contest as they seek to build their online profiles and person brands.
Snapchat, however, emerges among one-third of high school students in the US as the least awkward place to connect.
In a separate session called 'How To Fill Theaters Through Yield Management – Lessons Learned From Leading Industries', Andre James and Stephan Zech of Bain & Company pointed to airline and other industries as sources of inspiration.
James noted how an average 20% usage of seats at any given time in a theatre was far lower use of inventory than in many other sectors.
The experts suggested theatre owners consider a range of ideas to optimise their auditoriums, including subscription models and dynamic pricing based on seasonality, the stage of the film's theatrical life, time of screening, and location of seat.
TECH UPDATE:
Online film destination Fandango announced it is rolling out ticketing platforms at its subsidiaries Ingresso in Brazil and Fandango Latin America, formerly Cinepapaya, in seven countries in the Spanish-speaking region.
Dolby Laboratories and Emaar Entertainment-owned Reel Cinemas will open multiple Dolby Cinema locations across the Reel Cinemas network in the Middle East. Among the first sites expected to open later this year are the Dubai Marina Mall and the flagship Reel Cinema location at The Dubai Mall.
Digital cinema distribution platform Qube Cinema has launched the Qube Wire DCP delivery service. Qube Wire became operational with over 500 global companies using the KDM generation services of the platform during its beta test phase, and will now be available to select customers from April 15 before launching to all customers on a commercial basis from June 1.
Projection specialist Severtson Screens has launched the Giant QuickFold Screen Line. The product includes dual frame construction for superior support and to prevent hour-glassing of the screen. Additional options include choice of multiple perforations, Silver 3D and Stellar White gains, and dress kits.