Studio celebrates 15 years at Las Vegas anniversary lunch.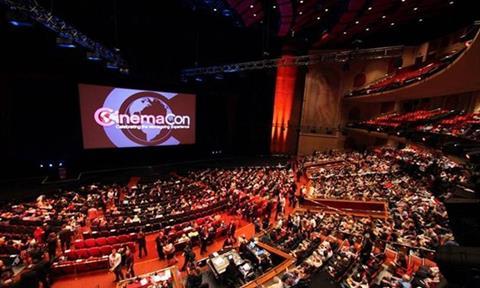 Gary Oldman talked up his role as former British prime minister Winston Churchill in Darkest Hour, one of several titles on a 2017 slate Focus Features chairman Peter Kujawski called "the best we've ever had."
Oldman admitted he initially found the prospect of portraying the wartime leader intimidating, yet judging from footage, Joe Wright's latest collaboration with Working Title and Focus after Anna Karenina, Atonement and Pride & Prejudice could become an awards season heavyweight when it opens in November.
"Winston was a hard one," the British actor, who was transformed after more than three hours in make-up each day, said. "It's a lot of wrap your head around. Not only the physical [transformation] but here was a man who was hailed as arguably the greatest Briton that ever lived. He's an iconic figure, has been quoted many times, and many famous actors have portrayed him.

"It was daunting, but once I found out who the man was, I've never enjoyed it so much in my life," the Oscar-nominated star said. He added: "Had it not been for Winston, our world might have been very different."
Naomi Watts and director Colin Trevorrow took to the stage to talk up drama The Book Of Henry. Trevorrow said the film bore similarities to his blockbuster Jurassic World as both concerned children in peril and were "whimsical, dark and emotional."
Watts stars opposite Room's Jacob Tremblay and Jaeden Lieberher and called The Book Of Henry "a fantastically human story." The story of a mother who raises a genius child opens on June 16.
Next up, Kirsten Dunst described Sofa Coppola's Civil War era drama The Beguiled as "unlike any movie I have seen from Sofia and it's a really fun ride." For his part, Farrell enjoyed being on the female-dominated set, while Coppola said she was drawn to the project by the "sexual tension" in Thomas Cullinan's novel.
Colin Farrell plays a wounded Union soldier who sparks jealousy and intrigue when he is taken in at a girls' boarding school. Nicole Kidman and Elle Fanning also star in the June release. The trailer drew enthusiastic applause.
Charlize Theron, Sofia Boutella and director David Leitch came on stage for Atomic Blonde and introduced a sequence from the action thriller that premiered at SXSW and opens in the US on July 28.
Victoria And Abdul star Judi Dench sent a recorded message and cued up footage to the Working Title drama about the friendship between Queen Victoria and a young clerk from India played by Ali Fazal.
President of domestic distribution Lisa Bunnell told the crowd production was underway on Untitled Paul Thomas Anderson Film, the anticipated reunion between Anderson and his There Will Be Blood Oscar winner Daniel Day-Lewis that is expected to land an awards season berth later this year.
Kujawski kicked off the CinemaCon session with a highlight reel of the studio's most acclaimed films and name-checked the likes of Brokeback Mountain, Lost In translation, Coraline, Sean Of The Dead and Moonlight Kingdom.
The studio returned to its prestige roots in February 2016 when it merged with Universal Pictures International Productions to form a global specialty brand.