Exuberant studio session on Tuesday showcases R-rated comedy, sci-fi, adult thrillers, satire.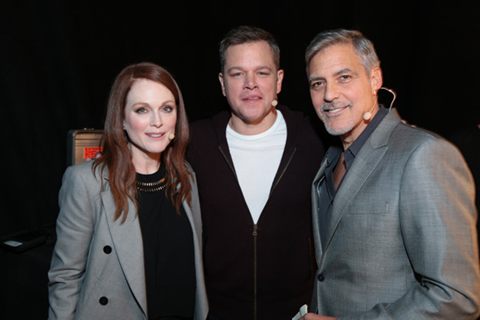 George Clooney and Matt Damon, Dwayne Johnson, Zac Efron, Michael Bay, Mark Wahlberg and Anthony Hopkins, Alexander Payne and none other than former US vice-president Al Gore were among the celebrity highlights of a high-wattage studio presentation on Tuesday.
Mark Damon introduced "one of the very best directors in the world" Alexander Payne to cue up 10 minutes of footage from the satire Downsizing.
The footage dazzled the crowd and drew sustained applause at the end. Damon and on-screen wife Kristen Wiig volunteer for a ground-breaking social experiment in which they are reduced to the size of dolls.
"Downsizing imagines what might happen if, as a solution for overpopulation and climate change, Norwegian scientists discover how to shrink people down to five inches tall," Payne, who is editing the film now, said. "What people soon realise is it's actually a way to consume more." The film opens on December 22.
Dwayne Johnson opened the show and engaged in slightly awkward banter with Baywatch cast members and a DJ to the side of the stage, who at one point appeared to perplex the star when he read his lines from the autocue and name-checked the cast as they took to the stage at The Colosseum.
Johnson asked for a re-run and welcomed his gang to the stage, led by Zac Efron, before introducing a raucous sequence from the action comedy that included a penis sight gag set in a morgue. The film opens on May 26.
Damon engaged in far more effective banter with his Suburbicon director George Clooney fuelled by a November 3 release date that pits the dark comedy against Disney's Thor: Ragnarok.
Julianne Moore joined the pair on stage and teased Damon about his height before the latter turned the tables on his director and poked fun at his suit in Batman.
Clooney introduced entertaining first footage from the film, which Clooney co-wrote with the Coen brothers and Grant Heslov. "It's a film about a lot of flawed people making some really bad choices along the way," he said. Bloom handles international sales on Suburbicon.
Al Gore took to the stage to talk up July 28 release of the documentary An Inconvenient Sequel on the day President Trump signed an executive order scrapping Obama's rules on climate change.
"The climate crisis really isn't a partisan issue and as I've travelled around the world I've found that communities have embraced solutions… in order to provide a cleaner, healthier, and safer future for our children and grandchildren," Gore said to applause before cuing up the world premiere of the trailer.
Paramount president of domestic theatrical distribution Kyle Davies ran through upcoming releases including a pair of elevated genre titles:
Darren Aronofsky's mother! starring Jennifer Lawrence and Javier Bardem arrives on October 13, and Cloverfield Movie produced by J.J. Abrams opens on October 27.
Daddy's Home 2 starring returning leads Will Ferrell and mark Wahlberg arrives on November 10 and the cast includes Mel Gibson and John Lithgow as grandfathers.
Davies introduced lengthy footage from Alex Garland's Ex Machina follow-up, Annihilation, which stars Natalie Portman as a biologist sent to investigate a mysterious region on Earth. The unsettling footage showed a traumatised Portman engaging with her husband, played by Oscar Isaac, as he attempts to recount his mission in the bizarre region Portman will soon explore.
President of the Paramount film group Marc Evans said the sixth Mission: Impossible episode would begin production in April and is scheduled to shoot in London, India, Paris, New Zealand ahead of a July 27, 2018, release date.
The roster includes March 23, 2018, comedy Action Point, an MTV brand from the Jackass crew.
For the finale, Michael Bay, Wahlberg, Anthony Hopkins and producer Lorenzo di Bonaventura joined several other cast members to talk up Transformers: The Last Knight.
Bay shot the film in native 3D and said that while it was the fifth instalment in the 10-year franchise, it felt new and combined the Transformers mythology with a sci-fi take on Arthurian legend.
The director reiterated that The Last Knight will be his last film in the series, although he admitted he has said that before.
Hopkins called Bay "a genius" and praised the director's breakneck pace on set, adding: "I love that. It's very American."
He recalled dryly how one time on the shoot Bay said of a recreation of Stonehenge: "Ours is much better than theirs."
Bay then introduced more than 20 minutes of footage. The film opens on June 23.