Acqusitions include the nine-screen Empire Leicester Square [pictured], while Cineworld Haymarket will be taken over by Empire.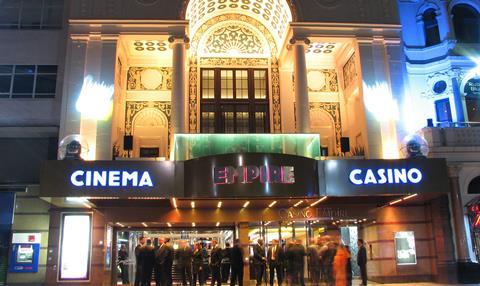 Cineworld, the second largest exhibitor in the UK, has completed a deal with Cinema Holdings Limited, the parent company of the Empire Cinema chain, for the sale of five of Empire's UK cinema sites.
The $124m (£94m) sale includes the prestigious nine-screen Empire Leicester Square location in London's West End, which features one of only two IMAX screens with laser projection in the UK (alongside Cineworld Sheffield) and is also the widest cinema screen in the country.
The other sites are the 18-screen multiplex in Basildon, the 17-screen Hemel Hempstead site, the 16-screen multiplex in Poole and a smaller, four-screen location in Bromley.
As part of the $124m deal, Cineworld's three-screen Haymarket location will be taken over by Empire.
The transaction will be comprised of 50% cash and 50% Cineworld shares and is expected to be closed before the end of next month.
The four multiplex sites – Leicester Square, Basildon, Hemel Hempstead and Poole – will all take on Cineworld branding, while the company are mulling converting the smaller Bromley location into a Picturehouse cinema, the brand that it purchased for £47.3m ($62.3m) in 2012.
Cineworld CEO Mooky Greidinger commented on the acquisition: "[This deal] underscores our commitment to operating high quality and modern cinemas across all of our nine operating countries, and our mission to be the best place to watch a movie.
Empire chairman Thomas Anderson added: "[Cineworld's] reputation as good operators gives me confidence in a bright future for the cinemas and their employees, and as a shareholder in Cineworld, I trust the company's ownership will enable it to maximise the value of these premium assets as part of its continued growth."