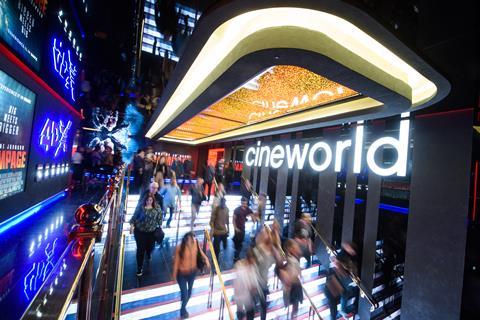 UK-based Cineworld Group has received approval from a US bankruptcy court for 'first day' relief following the exhibitor's Chapter 11 filing on September 7.
The move will see the group granted access to "up to approximately $785m of an approximate $1.94bn debtor-in-possession financing facility".
This means that – together with Cineworld's available cash reserves and cash provided by operations – it can expect to provide sufficient liquidity for the group to meet its ongoing obligations, including employee wages, salaries and benefits as well as post-petition obligations to vendors and suppliers.
"Today's approval of our requested 'first day' relief is a positive step forward for the Group and our restructuring efforts," said Mooky Greidinger, CEO of Cineworld. "As we position Cineworld for long-term growth, through this Chapter 11 process and beyond, we remain steadfast in our commitment to providing our guests with the most memorable moviegoing experiences and maintaining our long-standing relationships with our business partners."
In a statement released today, the company said Cineworld and its brands around the world – including Regal, Cinema City, Picturehouse and Yes Planet – are continuing to welcome moviegoers to cinemas as usual, which will not change during the Chapter 11 cases.
The group will also continue to honour the terms of all existing customer membership programs, including Regal Unlimited and Regal Crown Club in the US and Cineworld Unlimited in the UK.
Cineworld and its subsidiaries operate cinema in 10 countries with 747 sites and 9,139 screens globally.
Cineworld's debt was at $4.84bn in March and the company is facing a massive fine in its ongoing dispute with Canada's Cineplex, following the abandoned takeover of the company by Cineworld in mid-2020. The company's share price tumbled after the Wall Street Journal first broke the news that it was considering filing for bankruptcy in August.