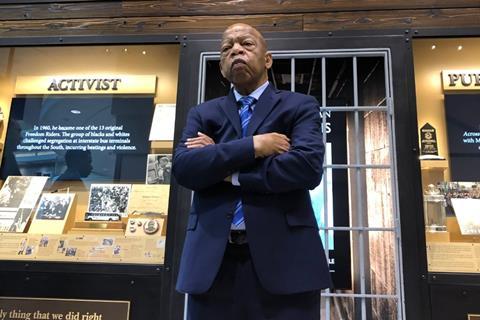 AGC International will launch sales at the Cannes virtual market on civil rights documentary John Lewis: Good Trouble.
AGC president of worldwide distribution Michael Rothstein and his team are lining up talks with buyers on the film by Dawn Porter (Bobby Kennedy For President, Gideon's Army).
John Lewis: Good Trouble traces formative moments in the life of the 80-year-old Congressman, from his early activism, to receiving the Medal of Honor from Barack Obama, to his regular commentary in the media as the US and many parts of the world engage in protests over police brutality.
Porter accesses rare archival footage and interviews luminaries including Bill Clinton, Hilary Clinton, Nancy Pelosi, and Alexandria Ocasio-Cortez,
CNN Films, Trilogy Films, AGC Studios, and Color Farm Media produced in association with Participant Media and TIME Studios.
"John Lewis is an American icon who deserves to be every bit as revered on a worldwide stage as he is here in his own country," said AGC Studios chairman and CEO Stuart Ford. "The dramatic and culture-defining events of recent weeks have conspired to make this powerful film and its messaging all the more vital for overseas audiences – we're incredibly proud to have backed this movie from its outset and to now be bringing Good Trouble to the global marketplace."
The film is part of promotions and virtual screening programmes with bodies such as the NAACP, Color of Change, the NFL, the NBA, Rock the Vote, and churches around the country.
John Lewis: Good Trouble is one of a trilogy of feature documentaries co-financed by AGC Studios and CNN Films which include Scandalous, and the upcoming Jackie Collins biopic Lady Boss: The Jackie Collins Story.
Magnolia Pictures and Participant will releae the film in the US on July 3.