Sony's The Angry Birds Movie flies in with $3.1m (£2.15m), while Disney's The Jungle Book becomes biggest film of 2016.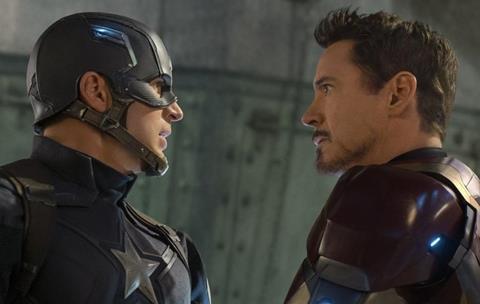 UK TOP FIVE
| Ranking | Film/Distributor | Weekend gross | Running total |
| --- | --- | --- | --- |
| 1 | Captain America: Civil War (Disney) | $4m (£2.8m) | $46.2m (£32.15m) |
| 2 | The Angry Birds Movie (Sony) | $3.1m (£2.15m) | $3.1m (£2.15m) |
| 3 | The Jungle Book (Disney) | $2.3m (£1.6m) | $56.4m (£39.3m) |
| 4 | Bad Neighbours 2 (Universal) | $1.6m (£1.1m) | $5.4m (£3.73m) |
| 5 | Florence Foster Jenkins (Fox) | $659,000 (£459,234) | $2.7m (£1.88m) |
DISNEY
Captain America: Civil War has become the third film this year to record a hat-trick at the top of the UK box office.
Marvel's latest fell 42% with a $4m (£2.8m) third weekend for $46.2m (£32.15m) after 17 days in play. It is now the fourth-biggest Marvel outing behind Iron Man 3's $53.1m (£37m).
In terms of 2016 superhero outings, Civil War is currently still tracking behind Batman v Superman which stood at $47.8m (£33.3m) at the same stage, but is ahead of Deadpool which had amassed $44.7m (£31.15m).
How Civil War copes with the arrival of X-Men: Apocalypse on Wednesday [May 18] will give a clearer indication of if it can overtake both, and maybe stand a chance of hitting £40m.
Also for Disney, The Jungle Book became the biggest film of 2016 to date at the UK box office on Friday [May 13].
The live-action remake posted a slim drop of 24% on its way to $2.3m (£1.6m) for $56.4m (£39.3m) after five weeks in play. It will swing past £40m by the end of this weekend at the very latest.
Zootropolis has amassed $33.1m (£23.04m).
SONY
The Angry Birds Movie ended the Disney domination of the top two in the UK as it flew into second.
Sony's animation took off with a healthy $3.1m (£2.15m) from its 522 sites for a site average of $5,913 (£4,119), and should prosper as the sole major animation over the coming weeks with Zootropolis' run slowing down.
The Angry Birds Movie will have to compete with Alice Through The Looking Glass over the school holiday at the end of the month though.
UNIVERSAL
Bad Neighbours 2 fell around 35% with a $1.6m (£1.1m) second weekend as it dropped to fourth.
Universal's comedy sequel is now up to $5.4m (£3.73m) and while it won't catch the original's $23m (£16m), it should at least avoid being director Nicholas Stoller's lowest UK performer, currently The Five-Year Engagement's $7.1m (£4.93m).
Also for Universal, The Darkness failed to scare UK audiences as it posted a soft $74,000 (£51,465) debut from its 106 sites.
FOX
Rounding off this week's top five was Florence Foster Jenkins as it posted a decent 21% drop (excluding previews) for a non-final $659,000 (£459,234) second weekend.
The Pathe release (distributed by Fox in the UK) now stands at $2.7m (£1.88m), and looks likely to challenge the $3.7m (£2.6m) and $4.2m (£2.9m) results of Tamara Drewe and Mrs. Henderson Presents, respectively.
Also for Fox, Secret Cinema's run of 28 Days Later… stands at $1.4m (£929,622), while Alvin And The Chipmunks: The Road Chip has amassed $23.8m (£16.59m).
STUDIOCANAL
Our Kind Of Traitor unearthed $513,000 (£357,945) from its 246 sites to chart sixth on debut through Studiocanal.
In terms of John le Carré adaptations at the UK box office, that's only ahead of The Tailor Of Panama's $409,000 (£285,368) debut from 113 sites. However, the other three adaptations opened at more than 300 sites at least.
Our Kind Of Traitor will hope to post decent midweek numbers due to its older-skewing audience, as it might get lost at the weekends in a blockbuster-heavy market.
Also for Studiocanal, Robinson Crusoe posted a hefty drop with a $82,000 (£57,119) second weekend for $984,000 (£685,638), while Bastille Day now stands at $2.8m (£1.94m).
EONE
Everybody Wants Some!! got off to an inauspicious start at the UK box office.
Richard Linklater's latest partied to $242,000 (£169,683) from its 109 sites, marking a site average of $2,222 (£1,548).
That's a debut behind the likes of Before Midnight and A Scanner Darkly, and around half of the $478,000 (£332,834) bow of Boyhood from 89 sites.
Also for eOne, Eye In The Sky stands at a decent $6.6m (£4.62m) following a $218,000 (£151,628) fifth weekend.
ALTITUDE / PICTUREHOUSE
An Altitude and Picturehouse co-release, Green Room posted a UK debut of $208,000 (£144,517), including previews, from its 136 sites.
That's ahead of Blue Ruin's $156,000 (£108,710) bow, albeit from fewer sites (55), on its way to $453,000 (£315,000). Green Room will hope to surpass that tally, despite the difficulties of a crowded market.
CURZON ARTIFICIAL EYE
Including previews, Curzon Artificial Eye's Mustang opened with $93,000 (£65,037) from its 43 sites.
Also for Curzon Artificial Eye, Son Of Saul has grossed $583,000 (£406,629) after three weeks in play.
PARAMOUNT
Whiskey Tango Foxtrot could only manage an $84,000 (£58,798) UK bow from its 123 sites through Paramount.
That marks directors Glenn Ficarra and John Requa's worst UK opening by some distance, although it's worth noting that the film also received their smallest ever release.
UPCOMING RELEASES
This week sees saturation releases for Fox's X-Men: Apocalypse (opens May 18) and Icon Film Distribution's A Hologram For The King.
Lionsgate's Sing Street expands nationwide after its successful Irish release, while Dogwoof's Heart Of A Dog, Altitude's The Call Up and Sony's The Silent Storm are among the films receiving a limited release.