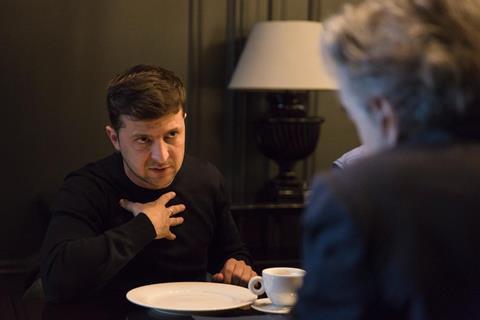 Cohen Media Group has picked up all US rights from Gaumont to Bernard-Henri Lévy's documentary The Will To See documenting humanitarian crises across the world including Ukraine.
The French filmmaker and philosopher travelled to global hotspots and spoke to Ukrainian president Volodymyr Zelensky prior to the war with Russia. The feature came about in 2020 when Lévy was sent by international newspapers to bear witness and report from countries around the world where citizens are struggling to live through war and large-scale acts of violence.
He also visited Nigeria, Syrian and Iraqi Kurdistan, Somalia, Bangladesh, Greece, Libya and Afghanistan.
Cohen has set an April 29 theatrical release for The Will To See, which Marc Roussel co-directed.
"Two years ago, I had the honour to be embedded with Ukrainian special forces on the frontline in Donbass for this film," said Lévy. "I saw the courage of women and men fighting Putin's aggression. My objective was to jolt people out of complacency and not look away at the devastation he was wreaking. Now Putin's war crimes are tragically on display for the world to see. People are beginning to wake up and, I hope, have the will to see. But we must have the will to act. This is imperative for the Ukrainian people, but also for the West and all who believe in democracy."
Cohen Media Group chairman and CEO Charles S. Cohen said, "Bernard-Henri Levy's brave new film shines a light into dark corners the world cannot afford to ignore." Senior vice-president Robert Aaronson negotiated the deal with Gaumont EVP of international sales and distribution Alexis Cassanet.