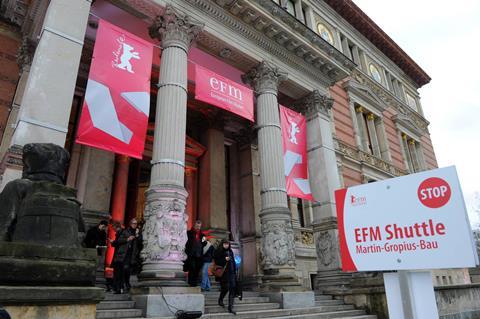 Certain European Film Market (EFM) exhibitors are reporting fewer bookings for scheduled meetings as new rules governing admissions to the main hubs of the Gropius Bau (GB) and the Marriott Hotel come into force. Some regular attendees say they are even reconsidering whether it is still cost effective to attend the market.
Under a new policy announced in December, access to the GB is restricted to market badge holders only for the first weekend due to concerns about overcrowding. Many EFM exhibitors said at the time that they feared the move would hit business.
An alliance of industry trade bodies and institutions – including distribution network Europa Distribution, France's ADEF and Film Export UK – wrote to EFM director Matthijs Wouter Knol to express their concerns.
As the market kicks off, some attendees say these fears are now materialising. Christian De Schutter of promotional agency Flanders Image reported on Thursday that he had 40% fewer meetings scheduled than at the same stage of the festival in 2018.
"Last year, I arrived in Berlin with 81 meetings scheduled. This year, I arrived in Berlin with 43 meetings scheduled," De Schutter said.
"I think it is really short-sighted. The real reason they [the EFM] did this was to get more money out of people, to try to sell more market badges."
Flanders Image is one of the bigger advertisers in the Gropius Bau but may now cut back its spend. "I am not willing to invest all this money if only half of the people we want to see the banners will see the banners," says De Schutter. "We want everybody to see them."
He acknowledged that larger organisations and festivals will still attend in the same numbers as in previous years but argued that smaller companies and events wouldn't be able to afford to buy multiple market badges.
Martin Schweighofer, executive director of the Austrian Film Commission, said that the changes in EFM market admissions policy "came out of nowhere".
"Bottom line is that when I heard the news, I said if we cannot do what we need to do, we have to react. If I cannot meet the people I want to meet and I need to meet, then we'd have to move out."
"I did talk to the people who run the market, Matthijs and the others," he continues. "They're fully aware of the situation and they told me they were caught by surprise too because they were not expecting the pressure that came, it seems, from [the GB] to limit the people coming in."
In the long run, Schweighofer suggested that the EFM might have to reconsider where it holds its event. One idea could be to "rent the whole of the Marriott Hotel and turn it into something like the American Film Market".
Another solution could be to establish a permanent home for the EFM rather than hiring out the GB every year.
Wouter Knol accepted that delegates were taking time to absorb the revised arrangements. "We are aware that the new access policy is not easy to digest," he said. "For us it was and is important to communicate openly about the changes and have the needs and worries of our clients in mind. Compared to last year, we had roughly the same amount of people in the building on Thursday."
The EFM director also told ScreenDaily that the decision on the weekend access policy "had to be made due to the safety regulations of the Gropius Bau, as the safety of our market visitors is a priority."
In the lead-up to this year's EFM, he revealed that "significantly more people took advantage of our extended early-bird Market Badge. This was balanced with less people buying market badges during the regular stage."