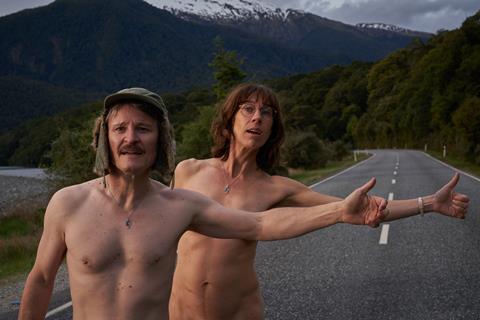 Cornerstone Films has acquired world sales rights to Armagan Ballantyne's upcoming comedy Nude Tuesday, which it will launch at the virtual European Film Market (EFM, March 1-5).
The London and Los Angeles-based sales agency will reveal first footage of the Australia-New Zealand co-production to buyers during the EFM. Madman previously secured distribution rights for New Zealand and Australia.
All the dialogue in the film, about a couple who attempt to rekindle the spark in their marriage, is spoken in unintelligible gibberish. It will feature two sets of subtitles – one provided by "prominent local comedians" from each territory, who will offer their own take on the farcical dialogue.
The central couple is played by Jackie van Beek, whose credits include The Breaker Upperers and What We Do In The Shadows, and Damon Herriman, who played Charles Manson in Quentin Tarantino's Once Upon A Time In Hollywood. They head to a couples retreat where they meet a sex guru, played by Jemaine Clement, and go on a nudist romp with their newfound sexual liberation. Beek has also written the comedy.
It marks Ballantyne's second feature after The Strength Of Water, which played in the Generation Kplus competition at the Berlin International Film Festival in 2009.
Shot in New Zealand during the pandemic, following a delay of six months due to restrictions, Nude Tuesday is now in post-production. Producers are Emma Slade for New Zealand's Firefly Films and Virginia Whitwell and Nick Batzias of Australia's Good Thing Productions.
The project received production investment from the New Zealand Film Commission (NZFC) in association with Screen Australia and is financed with support from Film Victoria.