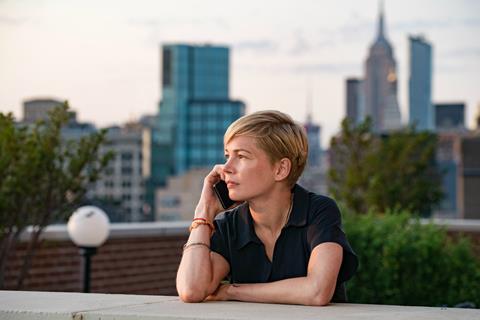 Cornerstone Films has closed multiple key territories including Australia, Germany and Scandinavia on its English-language reimagining of After The Wedding following a heavyweight buyer response to the promo reel at AFM.
Michelle Williams (pictured) stars as an orphanage director in India who travels to New York to meet a potential benefactor. When the wealthy woman invites her to attend her daughter's wedding, mysteries are revealed and worlds collide in a life-changing way. Julianne Moore, Billy Crudup and Abby Quinn round out the key cast.
Bart Freundlich directs the drama, which is described as being in the spirit of Terms Of Endearment, and is based on the 2006 Oscar-nominated Danish original directed by Susanne Bier that starred Mads Mikkelsen in the lead role. The project is in post.
Cornerstone Films co-founder Alison Thompson presented a promo reel at 9am on the first day of AFM and said the move paid off as she and her team closed deals in: Germany (Telepool), Australia and New Zealand (Rialto), Scandinavia (SF Studios), Italy (Lucky Red), Spain (Sun Distribution / Diamond), Benelux (Dutch Filmworks), Middle East (Italia), Portugal (Lusomundo), and Switzerland (Ascot Elite).
Rights to the drama have also gone in: Latin America (Sun Distribution / Diamond), China (Red Apollo), Hong Kong (Golden Scene), Japan (Kino Films), Philippines (Go Asia Entertainment), South Korea (Jin Jin), Taiwan (Catchplay), South Africa (Filmfinity), Turkey (Filmarti), Israel (Lev), Greece (Odeon), and Iceland (AB Studio).
"People absolutely loved the promo reel," said Thompson, who jointly represents US rights with Endeavor Content. "The market's changing: the first 24-48 hours were very important for promo reels and if you have something people respond to, you can sell."
After The Wedding is presented by Ingenious Media, Rock Island Films and Riverstone Pictures. Joel B. Michaels is producing.