Gravity director talks 3D, Sandra Bullock's "astounding discipline" and why he may not be able to afford to make his dream movie.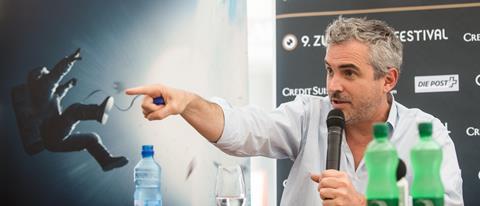 Gravity director Alfonso Cuaron has branded most 3D movies as "crap".
Speaking at a press conference at the Zurich Film Festival, where Gravity screens tonight as a 'Green Carpet Gala', the Mexican director said: "The problem with 3D is that it's been completely misused.
"The problem now is that they make all these films that are not designed for 3D and then convert them as a commercially afterthought – and they are crap. They don't follow the rules of 3D of what does and doesn't work.
"There are a handful of films that have used 3D in a proper way so it can be an amazing tool."
Gravity was designed to be seen in 3D and the 2D version is just "30% of the experience", the director told Screen International editor Wendy Mitchell, who moderated the press conference.
Bullock: disciplined
The film stars Sandra Bullock as an astronaut who goes spiralling into space following an accident.
Cuaron praised Bullock, who stars alongside George Clooney, for her "astounding discipline" when making the film.
"Sandra started rehearsing and training five months before the shoot just to get fit because of the rigs she was going to use," he recalled.
"She worked with stunts, special effects, her personal trainer and the puppeteers to see which parts of her body she needed to train specifically for the rigs.
"We started working together on hundreds of cues and timings because everything was pre-programmed and she could not change timings. It was like dance choreography – more like we were doing a ballet.
"Her capacity of abstraction, because she was performing against nothing, was amazing. She was doing it with such precision that it looked like second nature and we could instead talk about performance and emotions."
Dream movie
The director, who has previously made films including Y tu Mama Tambien, Children of Men and Harry Potter and the Prison of Azkaban, was also asked how he chose projects.
"I don't think about it, I do whatever feels right," he replied.
"There are many other kinds of films I would like to do. Sometimes it's down to money, not only getting the finance together but also if I can afford it.
"I have a dream movie I'd like to make but it's tiny and not commercial. I couldn't be paid - and I have a family and a life."
The film, which Cuaron thought would be a quick job, took more than four years. "I improvise a lot in my other films so this was completely different," he said. "I enjoyed every part of the process but would never do it again."
Drawing laughter from the assembled press, Cuaron added: "I now want to work on films in which people walk. I feel very strongly about this. If they walk, lay down, sit in wheelchairs or even swim, that would be fantastic."