Sheffield's Showroom Cinema prevented from showing the film on its UK release date; Curzon defends move; BFI issues statement.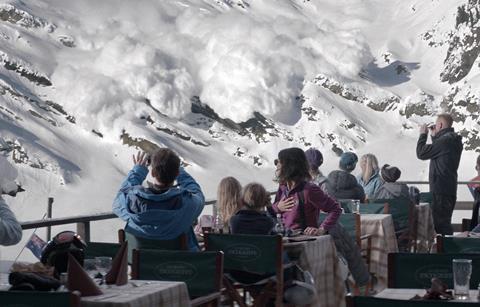 The Curzon Group has responded to a statement from the Showroom Cinema in Sheffield regarding the release of Ruben Ostlund's Cannes winner and critics' favourite Force Majeure.
In its statement, Showroom Cinema revealed that it had intended to show Force Majeure on its UK release date (April 10) but had been prevented from doing so.
"We have been recently informed that Curzon Film World, the film's distributor, will not accept our booking and that from now on Curzon will not allow us to show their films on release date," Showroom declared.
The statement acknowledged that Curzon was a private company and "can operate however it wishes," but also drew attention to the fact that Curzon receives "substantial amounts" of public funding to support the release of its films - and that this public funding is supposed to ensure "as many people as possible have the possibility to see them".
Curzon response
In its own response, Curzon made clear that it is "standard industry practice… to limit the number of cinemas on a film's opening weekend in cities across the UK".
"At Curzon Artificial Eye we rarely open in more than one cinema per city for the first week but we do make our films available to cinemas across the country in the following weeks," it stated.
Force Majeure, which has been critically lauded, did open in Sheffield last week - at the company's own Curzon Sheffield site. It is also available to watch online through Curzon Home Cinema.
The film did not receive BFI backing toward its UK distribution, although its did receive EU MEDIA support.
Curzon sources insist there is no problem of access to their films in Sheffield, and if people prefer to watch any given Curzon movie at the Showroom rather than at another venue, the film could be available to that venue from the second weekend.
The Showroom and Curzon Sheffield regularly share films. Currently, they are both playing While We're Young and documentary Cobain: Montage of Heck.
Force Majeure opened on 33 screens on April 10, of which 18 were in London.
Showroom defends statement
Speaking to ScreenDaily, Showroom CEO Ian Wild defended last week's statement.
"The point I would make is that we have been showing most of Curzon's film releases for many years and we have built up a following for that type of film in Sheffield," he said.
"It is obviously very disappointing to be told that we can no longer show those films on the day of their release as our audience has come to expect.
"That was why we wanted to explain to our audience why we were not showing the film when it came out."
Wild added that Curzon's point about protecting screen averages "was not really a valid one because if Curzon were serious about keeping up the screen average they would probably commit to us exclusively."
He pointed out that Curzon had received EU support. "The money is given to get the film shown to as many people as possible and obviously a lot of our customers want to see this film and therefore it seems strange to us that we are not being allowed to show it on the date (of release)."
The Curzon Sheffield cinema at which Force Majeure was shown is a small boutique venue with three screens. The biggest has 64 seats, another has 55 and the third one 39 seats. The Showroom is a larger venue with four screens sitting respectively 79, 108, 176 and 282 customers.
The Showroom has still made Force Majeure its "film of the month" and has seven upcoming screenings planned between April 24-30.
"They (Curzon) have now clarified we can book films a week after they come out. In this case, we are showing it two weeks after release," Wild said. He noted, though, that "the amount of a money a film takes falls off quickly after its first release."
BFI: do not restrict potential audience
The Showroom Sheffield is a key partner in the BFI's Film Audience Network, which aims to provide greater audience access to a broader range of cinema, and the BFI has now released its own statement regarding the dispute.
"The BFI's fundamental aim when supporting the release of independent British and international films in the UK, together with our cinema-led initiatives is to grow the audience for these types of films," the statement read.
"The opening of Curzon Sheffield was fantastic news for the industry, given that Curzon consistently brings the best of British and international cinema to UK audiences both through its distribution and exhibition arms, so it is obviously disappointing to see a willing and long-serving loyal supporter of their films such as the Showroom denied the opportunity to continue their relationship in the same way.
"However, it is Curzon's right to release Force Majeure as they see appropriate.
"Distributors and cinema operators have a symbiotic relationship in bringing films to audiences. Whilst we recognise it is the distributor's job to set the best release plan for any given film, distributors can only access BFI public funding with a vision and plan for releasing an independent or international film that can connect with the widest potential recognised audience.
"Allowing willing and suitable cinemas to play the films is a fundamental part of successfully achieving this goal. We would not support release strategies which restrict the potential audience accessibility of any future releases from any distributor."