The low-budget debut was made as part of Nordisk's new-talent initiative Spring.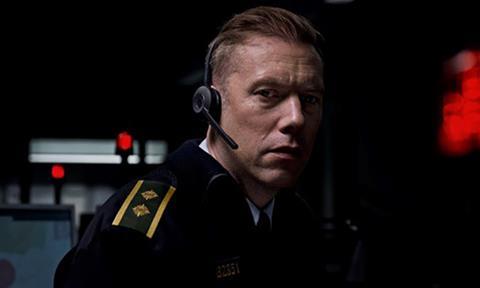 The influential Danish Cinema Club (Biografklub Danmark) has selected the 10 films for its 2017-2018 season. They are:
Breathe, dir Andy Serkis (May 31)
Gud Taler Ud (literal translation God Speaks Out), dir Henrik Ruben Genz (Sept 28)
The Guilty, dir Gustav Moller
The Journey, Nick Hamm (May 3)
Never Again A Tomorrow, dir Erik Clausen (Aug 31)
The Papers, Steven Spielberg (April 5)
Sa laenge jeg lever, dir Ole Bornedal (March 8)̊
Suburbicon, dir George Clooney (Dec 7)
Three Billboards Outside Ebbing, Missouri, dir Martin McDonagh (Jan 11)
Victoria And Abdul, dir Stephen Frears (Nov 2)
It's notable that the scheme has included amongst the starrier productions, The Guilty (pictured), a low-budget debut feature made as part of Nordisk's new-talent initiative Spring.
The Guilty is the debut feature of Gustav Moller and is a real-time, contained thriller about an alarm dispatcher (Jakob Cedergren) who races against time to save a kidnapped woman. The project has been attracting buzz since the team presented a scene the Goteborg's Work In Progress sessions in January. TrustNordisk handles international sales.
The other Danish films in the line-up are Terribly Happy director Henrik Ruben Genz's Gud Taler Ud, adapted from the bestselling book about a strong-willed patriarch (played by The Killing's Soren Malling) whose family may revolt against him.
Erik Clausen's 14th film Never Again A Tomorrow, in which the director also plays the leading role of a great Danish artist who dies and observes the reactions of his family and friends.
Ole Bornedal's Sa laenge jeg lever (literal translation As Long As I Live) stars Rasmus Bjerg as iconic Danish singer-songwriter John Mogensen, who found success as a member of Four Jacks and also a solo artist.
Influential
The Danish Cinema Club started in 1995 and now has about 200,000 members. Each member gets vouchers to see these selected 10 movies for half price tickets in any cinema in Denmark (all cinemas participate), at any showing.
Members can purchase a premium membership to get discounted tickets to all 10 films for $15 (98 DK) or a basic membership to get access to seven films for $13 (80 DKK).
This year Danish distributors had submitted about 50 candidates for the 10 slots. All films in the slate are released on a minimum of 50 prints.
Over the years, the Club has been a very successful initiative and represents about 10% of total admissions in Denmark. Other countries are taking notice of the model, for instance Norway launched a similar initiative based on Danish Cinemaclub in 2016, run by portal Filmweb.