Popular dating application Bumble has awarded grants of £20,000 each to five UK filmmaking teams for short film projects.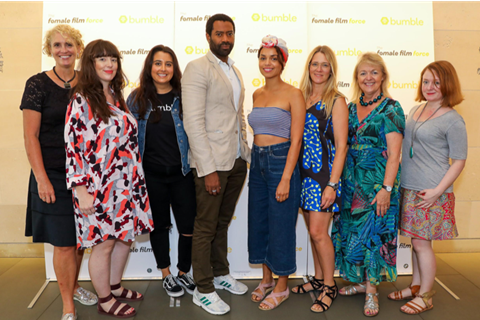 The company announced it was launching Female Film Force, an initiative to back female filmmakers in the UK and Ireland, earlier this year. A shortlist of 10 projects was drawn up and the teams pitched at Bumble's London HQ at the end of July.
The selected teams include first-time filmmakers alongside Tilly Coulson from Working Title, VFX exec Emma Moffat, and Dublin-based female filmmaking trio Alfonso Films.
Five projects have been given the greenlight. They are:
Ama Divers (director-producer Georgie Yukiko Donovan, producer Yoko Ishtani);
A Battle In Waterloo (writer-director Emma Moffat, producers Tilly Coulson and Anna Hargreaves);
Hatima (producer/AD Oluwaseun 'Shey' Osibowale, director Damilola Babalola, wrier Louise Ogunnaike, and DOP Funke Alafiatayo);
Pat (writer-director Emma Wall, producer Jo Halpin and DOP Claire Byrne)
The Leaving Party (writer-producer Helena Sutcliffe, director Emily Bray, writer-director Milly Garnier, producer Jenn Thomas).
The jury consisted of presenter Edith Bowman, Kate Kinninmont from Women In Film And TV, actor Ophelia Lovibond, actor Georgina Campbell, producer Fiona Gillies, actor Nicholas Pinnock, journalist Anna Fielding, journalist Emily Phillips and Danielle Chadha from Bumble.
The five teams will now receive mentoring from industry leaders, which will be selected with the assistance of Women In Film And TV, with a view to delivering the films by the beginning of 2019. Bumble is planning to host an industry screening of the completed shorts in January 2019 and is hoping the films will then play the festival circuit.
Female Film Force was created in response to the continued underrepresentation of women in the film industry. At launch, Bumble quoted the statistic that only 15% of 2018 Oscar winners were female, and only 20% of Bafta winners.