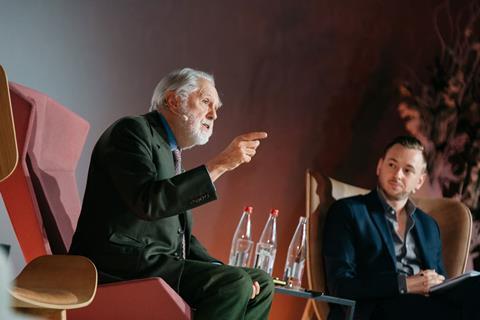 Film producer turned politician Lord David Puttnam has called on filmmakers to tackle populism, media homogeneity and 'fake news' through politically and socially-minded movies and TV series.
Oscar-winner Puttnam, producer of The Killing Fields, Chariots of Fire and Midnight Express, was speaking yesterday at the Estonian EU Presidency Conference in Tallinn.
The Ireland-based politician, who is also president of the UK Film Distributors' Association, said the film industry needed to do more to combat declining theatrical attendances, a trend highlighted by the EAO in Tallinn this week. Format and windowing flexibility and making more movies with a powerful social or political message can help, he commented.
"The magic of cinema must find you and change you…Cinema must get better at meeting its audiences half way and meeting audiences on their own terms. That's what TV has done…Too many people in Europe were making movies for their friends. That's not how the sphere works."
In a wide-ranging address, the former Columbia Pictures CEO said: "As democracy struggles; in an era of 'fake news', 'data capitalism' could well prove uncontrollable."
"We are marching into a world in which a small handful of very powerful companies dominate the news we read. Where is the push back? Where are the movies that say we cannot go on like this? I don't see them."
Puttnam said that the election of Donald Trump in America and the UK's vote for Brexit were in part the results of political lies and over-simplified worldviews:
"Opinions can differ but facts must not be allowed to become a generational battleground. I would argue we have moved away from discussing the complexities of the world in a complex manner and instead too often adopt simplistic positions."
The Labour peer urged activism as a means of engaging with what he views as a contemporary erosion of political and personal freedoms.
"Activism is the rent I pay for living on this planet," said Puttnam, quoting writer Alice Walker.
He also made a link between the proliferation of superhero movies and political apathy:
"Superhero movies encourage us to think there's another answer that doesn't require us to sacrifice and to dig deep and come up with other solutions. That's a terrible error…Trump is the failed man with a cape."
Puttnam is currently in development on his first movie in more than 15 years: Arctic 30, a climate change-themed feature about the experiences of 30 Greenpeace activists who were thrown into Russia's prison system after protesting against drilling in the Arctic.
The film is based on 'Don't Trust, Don't Fear, Don't Beg: The Extraordinary Story of the Arctic 30', the book by Ben Stewart.
Puttnam and French producer Hani Farsi of Corniche Pictures signed a joint venture to produce the film, which is also being shepherded to screen by Emma Thompson.