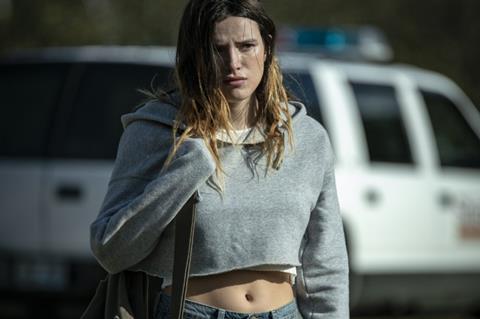 Screen Media has picked up all US rights from Toronto-based Double Dutch International (DDI) to Bella Thorne and Mickey Rourke revenge thriller Girl ahead of its world premiere at Fantastic Fest tomorrow (September 24).
Chad Faust's feature directorial debut is based on his own screenplay about a young woman who returns to her hometown to exact revenge on her abusive father, only to learn someone murdered him the day before.
As she searches for answers, she encounters a sinister sheriff and learns the truth about her family's history. The cast includes Faust, Glenn Gould, Lanette Ware, and Elizabeth Saunders.
Following the premiere at Fantastic Fest in Austin, Texas, Girl will get a theatrical and digital day-and-date release in November.
Thomas Michael, Shayne Putzlocher and Sara Shaak served as producers, and executive producers are DDI president and CEO Jason Moring, Dave Duckett, Joe Ferraro, Jean Pierre Magro, Al Morrison, Lee Nelson, David Tish, and Screen Media's Seth Needle and Conor McAdam.
Seth Needle, Screen Media senior vice-president of global acquisitions and co-productions, brokered the deal with Moring and DDI's senior vice-president of sales and acquisitions Mark Padilla.