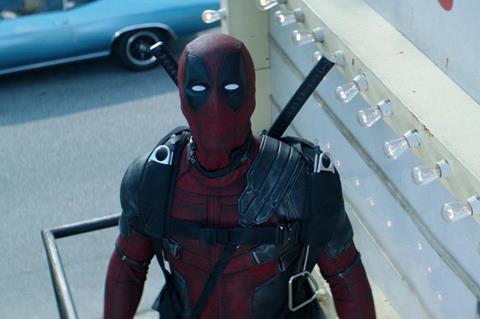 MAY 21 UPDATE: Deadpool 2 shoved superhero rivals aside to dominate the international marketplace this weekend, grossing a confirmed $174.9m from 25,091 screens in 82 markets.
Distributor Fox International said the superhero comedy sequel – which also opened in North America, with a confirmed $125.1m – scored the biggest international opening weekend ever for an R-rated title (beating the $160m achieved last year by Logan, another X-Men franchise entry) and becomes the studio's biggest international opener ever. The worldwide haul reached $300.4m.
FOX INTERNATIONAL
UPDATED: With Ryan Reynolds back as the title character, Deadpool 2 opened at number one in all its markets, outperforming the original Deadpool, which opened in February 2016, by 7% in like markets at current exchange rates, according to Fox.
The sequel just beat the opening of Fox's previous record holder, X-Men: Days Of Future Past, which took $174m (including $38.3m from China) in May 2014.
Deadpool 2 took an estimated $17.9m from 1,796 screens in the UK, $16.9m from 1,576 in South Korea, and $11.9m from 1,477 in Russia.
In Australia, it took $11.6m from 279 screens; in Mexico the take was $8.8m from 3,013; in France the tally was also $8.8m from 727 screens, with 1m admissions; Germany produced $8.3m from 875; and Brazil $7.2m from 1,479.
WALT DISNEY STUDIOS MOTION PICTURES INTERNATIONAL
UPDATED: Avengers: Infinity War took a confirmed $86.2m from 55 territories (representing 100% of the market) at the weekend, for an international total to date of $1.2215bn.
The blockbuster has now passed Furious 7 (with $1.16bn) to become the number three international release of all time and the highest grossing Marvel Cinematic Universe/superhero release of all time, according to Disney.
A global gross to date of $1.8173bn makes Infinity War the number four global release of all time and the highest grossing Marvel Cinematic Universe/super-hero release of all-time, said the studio.
In China, Infinity War held on to the number one spot in its second weekend with an estimated $53.7m. in its second weekend. With a territory total of $303m, the film is now the fourth highest grossing western release ever in China and the highest grossing Marvel release in the market.
Estimated box office for the whole of Asia has now reached $690m, making the film Disney's biggest ever in the region.
For Latin America, the estimated take has passed $200m and Infinity War has become the biggest release ever in Brazil (with $60.8m) and the second biggest in Mexico (with $57.7m).
The estimated take for Europe has passed $325m and Infinity War is the highest-grossing superhero release ever in territories including the UK (where the total stands at $87.7m).
The global IMAX take for Infinity War now stands at $134m, making the film the third highest grossing IMAX release ever.
PARAMOUNT PICTURES INTERNATIONAL
A Quiet Place grossed $18.8m in 51 markets this weekend, pushing its international total to $120.3m.
The thriller opened at number three in China with $17.7m from 8,731 cinemas.
The UK produced $169,000 from 320 cinemas for a local total of $16.3m; Australia delivered $130,000 from 159 locations for a total of $9.3m; and Germany $94,000 from 252 sites for a $3.7m total.
Sherlock Gnomes grossed $2m this weekend in 23 markets, for an international total so far of $31.7m. The comedy's second weekend in the UK produced $800,000 from 574 cinemas for a territory total of $4.5m. The second weekend in Spain delivered $520,000 from 307 sites for a total of 1.4m. The third weekend in Germany made $150,000 from 460 sites for a $971,000 total.
WARNER BROS PICTURES INTERNATIONAL
UPDATED: Rampage generated an additional $4.5m this weekend from 3,945 screens in 61 international markets, bringing the film's international total to $314.9m.
The Dwayne Johnson adventure opened in Japan with an estimated $1.6m from 684 screens, for a number three ranking.
Leading in to a Monday holiday in Germany, the film took an estimated $668,000 from 794 screens, for a total of $2.5m. The sci-fi outing has now reached $156.1m in China, $12.8m in Mexico, $12.4m in the UK and $11.2m in South Korea.
Life Of The Party grossed an estimated $1.3m from 1,125 screens in nine markets, bringing its international total to $5.9m. The tally included $668 from 297 screens in Australia (for a $2.6m total) and $308,000 from 433 in the UK (for a $1.5m total).
SONY PICTURES RELEASING INTERNATIONAL
Peter Rabbit opened in its final territories this weekend and took $4.1m from more than 3,200 screens in 50 markets.
The family comedy opened at number one in Japan with $2.1m, ahead of Paddington and Paddington 2,according to Sony. It opened in South Korea with $820,000.
The film's territory totals now stand at $56.3m for the UK, $26.5m for China, $20.2m for Australia, $12.3m for France and $12.1m for Germany.
UNIVERSAL PICTURES INTERNATIONAL
UPDATED: Supernatural thriller Truth Or Dare grossed $3.4m from 55 territories to reach $36.7m, for $76.9m worldwide.
Comedy Blockers added $600,000 for $27.9m and $86.9m worldwide, and crime drama Breaking In took $300,000 for $1.7m and $30.4m worldwide.
Local-language release Champions (Campeones) added $800,000 in its seventh weekend in Spain, where it has amassed $17.6m. Loro 2 took $600,000 in Italy for a total of $2.4m and Loro 1 grossed $200,000 in the same market for a $4.8m total. Tully opened in the UK where the royal wedding and FA Cup Final offered distractions, adding $100,000 for $700,000.
STX INTERNATIONAL
Amy Schumer comedy I Feel Pretty added $549,059 in its third weekend in the UK to reach $5.3m.