Sacha Baron Cohen's latest feature fails to dethrone Fox's foul-mouthed superhero.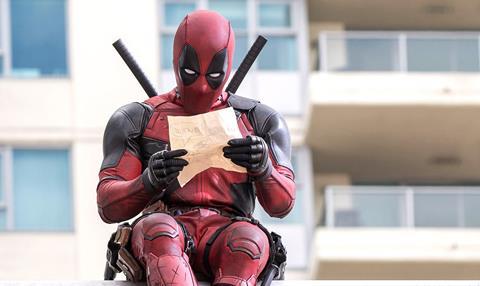 FOX
It might have been Oscar weekend, but UK audiences were still all about Deadpool as it recorded a hat-trick at the top of the chart.
Fox's superhero adaptation held off Grimsby with a $4.1m (£2.98m) third weekend for a terrific $43.1m (£31.1m) to date. As expected, it is now the biggest Marvel outing for the distributor, sailing past X-Men: Days Of Future Past's $37.5m (£27.1m) before the weekend.
Deadpool is now the seventh biggest superhero film of all time at the UK box office, and has Spider-Man 2's $46.3m (£33.46m) and Iron Man 3's $51.3m (£37m) firmly in its sights.
Also for Fox, Alvin And The Chipmunks: The Road Chip suffered its first big drop as it grossed $1.7m (£1.22m) for $20.3m (£14.67m) to date, while The Revenant trekked to a further $598,000 (£431,418) for $30.1m (£21.76m).
SONY
Grimsby could only chart second on its UK debut as it posted a $2.7m (£1.92m) opening from its 522 sites.
Sony's action comedy took $596,000 (£430,000) in previews, meaning its Fri-Sun tally of $2.07m (£1.49m) would have still seen it chart second.
Grimsby's debut marks the lowest for a Sacha Baron Cohen creation, some way behind his previous outing The Dictator which marched to a $6.9m (£4.96m) bow from its 509 sites, including $2.1m (£1.54m) in previews.
Even Ali G Indahouse opened with $4.5m (£3.23m) back in 2002, although it's worth noting that the character was already well-known by UK audiences.
Also for Sony, Goosebumps spooked up an extra $694,000 (£500,000) for $11.4m (£8.2m) to date, while Chinese sensation The Mermaid added $51,000 (£37,000) for a ten-day tally of $283,000 (£204,000).
WARNER BROS
Last week's highest new entry How To Be Single held well in its second weekend as it dropped one place to fourth.
Warner Bros' comedy took $1.3m (£925,000) for a solid $5.1m (£3.66m) to date, and should be looking to at least hit the £5m mark in the UK, a decent return for an original romantic comedy without a major star.
ICON FILM DISTRIBUTION
Having had its UK premiere at Glasgow Film Festival on Thursday [Feb 25], Icon Film Distribution's The Forest opened with $621,000 (£448,258) from its 344 sites.
That marks a solid, if unremarkable, site average of $1,805 (£1,303) and the horror could find it difficult to hold on in a busy market.
UNIVERSAL
Now in its fourth week, Universal's Dad's Army is up to $10.7m (£7.71m) following a $504,000 (£363,424) weekend.
Also for Universal, Secret In Their Eyes could only manage a $161,000 (£116,023) debut from its 111 sites. The original bowed to $118,000 (£85,467) from 16 sites.
PARAMOUNT
Zoolander 2 continued its fast burn at the UK box office, falling more than 50% on its way to a $430,000 (£310,000) third weekend. Paramount's comedy sequel has now taken a likely disappointing $6.3m (£4.54m).
EONE
Struggling in its second week, eOne's Triple 9 managed only a $361,000 (£260,968) weekend for a ten-day tally of $2m (£1.47m).
It now faces a challenge to match even The Road's $3.7m (£2.66m) result as John Hillcoat's second-best performance in the UK.
Also for eOne, Best Picture winner Spotlight is up to $6.6m (£4.78m) following a $259,000 (£187,182) fifth weekend. It could well enjoy a boost over the coming week thanks to its Oscar triumph.
DISNEY
Star Wars: The Force Awakens is finally slowing down after its record-breaking UK run. Disney's juggernaut dropped 52% to take $249,000 (£180,000) for $169.8m (£122.6m) after 11 weeks in play.
Also for Disney, The Finest Hours capsized in its second weekend, falling 79% on its way to $72,000 (£52,000) for $616,000 (£445,000).
STUDIOCANAL
In its third week, Studiocanal's A Bigger Splash added $137,000 (£98,515) for $1.3m (£954,458) to date.
Also for Studiocanal, Room and Youth have grossed $5m (£3.6m) and $1.2m (£843,316), respectively. Room could get a little boost this week due to Brie Larson's Oscar win.
UPCOMING RELEASES
This week sees saturation releases for Lionsgate's London Has Fallen (opens March 3), Universal's Hail, Caesar! and Lionsgate's The Choice.
Fox's The Other Side Of The Door and Warner Bros' Truth both receive wide releases, while Dogwoof's Hitchcock/Truffaut and Vertigo Releasing's Goodnight Mommy are among the films receiving a limited release.