EXCLUSIVE: The French-Canadian director, whose Sicario is set to premiere in Competition in Cannes, has paid tribute to the "master" Ridley Scott.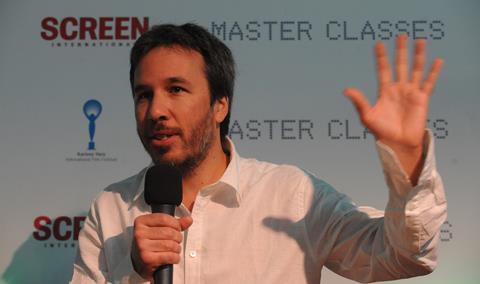 Speaking in an interview with John Hazelton in Screen and Telefilm Canada's Cannes Special supplement due out in May, Villeneuve admits the prospect of tackling a Blade Runner sequel was intimidating.
"Let's say it wasn't an easy decision to make," he said, "because I'm a massive Blade Runner fan, it's one of my favourite movies."
The director of Prisoners and Enemy added: "I was massively influenced, like a lot of people, by this movie. And Ridley Scott is a master.
"So I'm going there with a great amount of humility and a great amount of deep joy. And I know I can do it."
The project is scheduled for a summer 2016 star and will star Ryan Gosling alongside Harrison Ford, who reprises his role as Rick Deckard several decades after the events in Scott's 1982 original. Plot points remain under wraps.
It also reunites Villeneuve with Warner Bros-based Alcon Entertainment, the producers of Prisoners with whom he enjoyed such a fruitful collaboration that the parties signed a two-year overall deal.
Story Of Your Life
This summer Villeneuve will shoot another sci-fi tale, Story Of Your Life, in which Amy Adams plays a linguist who must determine whether visiting aliens are friendly or hostile.
The film became the talk of Cannes 2014 when Paramount stumped up $20m for North American and Chinese rights, while FilmNation licensed the bulk of international territories to Sony Pictures Worldwide Acquisitions.
Villeneuve describes Story Of Your Life as "a very powerful, beautiful and poetic story about language. It's a philosophical tale about our language and our perception of, and relationship with, the world."
Jeremy Renner and Forest Whitaker also star and FilmNation, Lava Bear and 21 Laps produce. eOne will distribute in the UK, Village Roadshow in Australia and Reliance in India.
Cannes premiere
Of more immediate interest is Sicario, which will mark Villeneuve's fifth film in Cannes when it premieres at the Palais in a couple of weeks.
Emily Blunt, Benicio del Toro and Josh Brolin star in the thriller about an idealistic FBI agent who becomes entangled in a plot to eliminate a Mexican cartel boss.
The filmmaker sees it as an exploration of "how America wants to deal with foreign problems and the moral issues behind those actions".
Villeneuve became interested in the subject of the US-Mexico border after he read a Rolling Stone article about missionaries on the US-Mexico border.
"It's a part of the world I've always been attracted to, the meaning of this border, what it says about our world today."
The script by first-time writer and Sons Of Anarchy and Veronica Mars actor Taylor Sheridan "traumatised" the director.
"It was dark, intense, powerful. It needed work but the voice inside it was very strong."
Read the full interview in Screen and Telefilm Canada's Cannes Special supplement due out in May. Click here to subscribe.