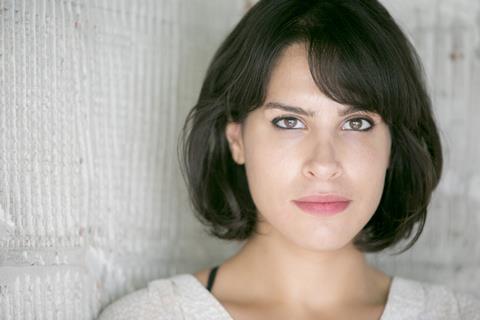 Issa Rae, creator, producer and star of the hit HBO series Insecure, and The Bisexual director and actress Desiree Akhavan were among those participating in a focus on diversity and inclusion at Mipcom this year.
Akhavan, whose new show The Bisexual launched on the UK's Channel 4 last week (Oct 10), ahead of a November debut on Hulu, joined a panel on Wednesday exploring how raising levels of diversity and inclusion in the TV business starts at the development stage.
She explained how her work – ranging from early series The Slope to features Appropriate Behaviour and Sundance Grand Jury Prize winner The Miseducation of Cameron Post - had all been driven by a desire to see characters she could relate to on the big and small screen.
"I am a filmmaker, I am from New York, my whole family is from Iran and I am gay," she said, as a way of introduction.
Akhavan described herself as having been a lonely child who had escaped into TV, citing titles such as The Brady Bunch and California high school sitcom Saved By The Bell as shows she watched in her youth.
"When I got old enough to find my life, it looked so different from what I had been taught on television. It was such a rude awakening and now I am so intent on making stories on life as I know it," she told the panel.
In spite of the awards success for The Miseducation Of Cameron Post, Akhavan recounted it had been impossible to get The Bisexual financed out of Los Angeles.
"I'd never seen a bisexual character on TV. It seemed like a big taboo to me and I felt there was something to be said there. I pitched it in Los Angeles to all the major networks."
The response was: "We have our female-driven show" or "We have our gay show", said Akhavan who finally found backing in the UK, through Channel 4 and Hulu, after moving to London for a few months to work with her co-writer on a new feature film screenplay.
She suggested that the US networks were paying lip service to diversity but remained reluctant to invest in it.
"Diversity requires a monetary risk. It requires putting your money where your ideals are and it's hard in Los Angeles to do that. It looks nice to have these incentives and these mentorship programmes, etcetera but if you're not willing to take a financial risk on stories for which you don't have a comparable you're never going to have anything made… when you boil it down to dollars and cents that is where I think it becomes an impasse."
Industry initiatives
Speaking on the same panel, Sky Vision managing director Jane Millichip said the production and distribution company was trying to weave diversity and inclusion into the fabric of its commissioning, development and production processes, through a number of initiatives.
She said the company had set gender and diversity quotas for its commissioning panels and shortlists and also ran mentoring and sponsoring programmes to support more diverse voices. She revealed that all company employees had to attend a course on inclusion and also added that she was on the look-out for "unconscious bias".
"It's really important to address both the corporate culture and the culture of scriptwriting and television production. You can't do one without the other. At Sky, we're very mindful of that," she said. "We like quotas. I know it's a controversial subject but quotas give you a kick up the arse and help you get where you want to get faster."
Other diversity-driven initiatives included investing in production company Sugar Films - which Millichip described as the UK's "first overtly multicultural production company" – and becoming a partner on the diversity-focused writing competition Fresh Wave! alongside Rae's ColorCreative TV outfit and Talos Films.
Under the scheme, a ten-minute pilot presentation is shot for the winning screenplay, which is then pitched to global TV executives. Millichip showed a trailer for the first winning entry, the sci-fi, cryogenics-themed drama The Unknown.
Wilhelmina Ross, an agent at Creative Artists Agency (CAA) said diversity and inclusion were increasingly at the heart of her agency's activities too.
"It's not just a part of it anymore. I feel like this is really the time that this is the conversation. Diversity, inclusion and making sure all voices are heard. Some of our clients are at the forefront of these things like Ryan Murphy who has the Half programme, which means for all of his shows half of the directors must be women or diverse candidates, or J.J. Abrams… he will reject a submission if it does not have half women or diversity," said Ross.
She said the agency had set up a diversity database – spanning some 920 diverse talents with at least one credit in the last five years.
"We're having a really good time introducing people to fresh voices," she said, revealing CAA had recently brought a diverse set of writers together to work on Joss Whedon's upcoming HBO series The Nevers.
"Without giving too much away it's a female Peaky Blinders with supernatural elements. He felt he couldn't speak for these female characters - and that he had to have that perspective in there," she said.
Ross said CAA also has an in-house multicultural committee; runs a mid-level mentorship diverse writers programme pairing established writers and showrunners – such as Misha Green and Evan Dunsky – with emerging new talents from diverse backgrounds, and also holds the annual Amplify retreat aimed at fostering diversity.
Audience appetite
Pieter Van Huyck, head of scripted at Belgian production outfit De Mensen, said his company's success with "romantic road movie" Team Chocolate showed there was an audience for dramas told from fresh and diverse perspectives.
The series follows a young man with learning disabilities who sets off on a road trip with his friends from Belgium to Kosovo to track down and reunite with his autistic girlfriend who has been deported back to her home country.
It was written and directed by Marc Bryssinck and Filip Lenaerts and grew out of the work of Belgium's respected Theatre Stap, which works with mentally and physically challenged actors to put on high-quality stage productions.
"We said to the production team there is no reason for this show to be less than any other show we make. Also, these actors they have to perform. It worked out. We got very good ratings, a few prizes and I can share with you that in Italy they're shooting a remake," said Van Huyck. Talks are also underway for a UK remake.
"We never pitched it to the public as a story about diversity. It is just a romantic road movie. When it was on air in Belgium there were not a lot of discussions going on about disabled people it was more about what it is to be in love and have a relationship," he added.
Millichip reported similar success with Lennie James's Save Me and police partner series Bulletproof, starring Noel Clarke and Ashley Walters, who have been dubbed by the UK press as the "black Starsky & Hutch".
"Save Me is a very tough show, it's an urban black story from London. It is brilliant but we thought we might struggle to recoup but it sold to the States [Starz] and is selling really well internationally," she said.
Day of diversity and inclusion
The development panel was part of a day-long focus on diversity and inclusion at Mipcom on Wednesday, which was topped by a keynote by Insecure star Issa Rae.
Greeted with enthusiastic applause as she stepped on stage, Rae talked through how she had started making her break-through web series Awkward Black Girl on her own after she found it impossible to get greenlighted through mainstream channels.
The star admitted to being bowled over by the fact that two-thirds of the audience for her latest show Insecure, revolving around the lives of two upwardly mobile black women, were white.
"That threw me all the way the f— off," said Rae, joking "Even white people are tired of seeing white-people shows."
Other events in the focus included a presentation of the documentary Escape From Syria: Rania's Odyssey, a shot by 20-year-old refugee Rania Mustafa Ali, and capturing her perilous journey from Kobane to Austria, which has been viewed some 10 million times on social networks and new platforms such as The Guardian website.
There was also a screening of new BBC drama Informer, starring Nabhaan Rizwan as an uncover informant for British counter-terrorism police, coinciding with its launch in the UK. The show, which is being compared to recent hit Bodyguard by media at home, was produced by Neal Street Productions, for the BBC, with Amazon Prime Video taking US rights.
On Tuesday evening, the content market also handed out its second edition of its Diversify TV's Excellence Awards, with prizes going to The Boy With The Topknot (race and ethnicity, scripted), Against All Odds (race and ethnicity, non-scripted), Home And Away (LGBTQ, scripted), My House (LGBTQ, non-scripted), Blind Donna (representation of disability, scripted), Different Like Me (representation of disability, non-scripted) and First Day (kids programming, all genres).
Virgin Atlantic's Millichip applauded Mipcom for laying on the programme of diversity and inclusion panels but added: "I look forward to the day when you have a black woman on a panel not talking about being a black woman. It is when inclusion is in the fabric of everything we do that we'll have succeeded. But we're in a transition phase and it won't happen overnight."