JULY 3 UPDATE: Wonder Woman, Pirates 5 cross $700m worldwide as The Mummy surges to $369.9m globally.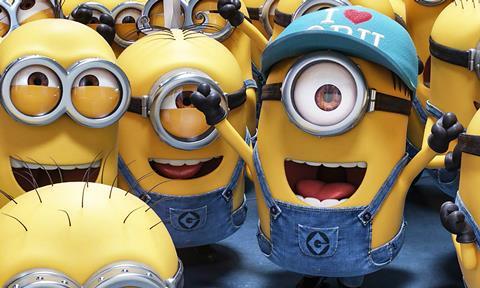 UNIVERSAL PICTURES INTERNATIONAL
UPDATED: Illumination's Despicable Me 3 is the number one film worldwide this weekend after grossing $98.8m in 52 territories for an early total of $142.1m.
The Steve Carell and Kristen Wiig animation stands at $241.4m worldwide after North America's $142.1m haul, including Monday and Tuesday.
Despicable Me 3 opened in 46 territories this weekend and is number one in 44 of them. The film also reclaimed the top spot in Australia in its third weekend.
The family film is the biggest animated movie opening weekend of all time in Argentina, Brazil, Estonia, Latvia, Venezuela and the Middle East. Estonia's opening of $294,000 and Latvia's debut of $247,000 are the biggest ever in those territories.
In addition, it is the biggest opening weekend of the Despicable Me franchise, including Minions, in 11 territories, including Brazil, Argentina, and Egypt.
Despicable Me 3 opened at number one in the UK on $16.9m for a 56% market share, setting the record as the biggest opening Saturday of all time for an animated film. In Mexico, Despicable Me is number one on $16.7m and a 74% market share. Meanwhile, Brazil debuted on $11m and a 63% market share.
Russia debuted on $11.8m, Spain has generated $6.4m and 58% market share, while Argentina produced a $5.7m debut and 76% market share. The Netherlands produced $3.8m for a first place debut.
Despicable Me 3 is performing ahead of all comps at the same point of release (except Minions, which grossed $140m), beating Despicable Me 2, Frozen, Zootopia, Ice Age 4, Finding Dory, Toy Story 3, and The Secret Life Of Pets.
There are 15 more territories to release over the next two months. This weekend, Despicable Me 3 opens in China, France, Germany, Austria, Switzerland, Trinidad and Iceland.
The Mummy grossed $12.1m from 69 territories lifting the international total to $300.5m. When combined with $76.1m from North America, the worldwide total is $376.6m.
Summer holidays contributed to an overall drop of just 32% from last weekend. France is the top holdover, dropping 5% on $1.6m for $8.1m and fourth place.
Germany produced $802,000 for $7.1m, dropping 7%, while China produced $362,000 for $91m after nine weeks.
Elsewhere, South Korea stands at $27.5m, Russia has generated $16.4m, while Brazil has produced $13.5m. Mexico stands at $12.7m, the UK $10.9m, Taiwan $9.3m, Spain $7.9m, and Australia $7.5m. Japan is the final territory to release on July 28.
Sofia Coppola's drama The Beguiled debuted in Germany, Austria, and German-speaking Switzerland and generated $421,000. The film starring Nicole Kidman, Colin Farrell, Kristen Dunst, and Elle Fanning has earned $4.7m in North America for $5.2m worldwide.
Germany debuted with a limited release of 115 dates and grossed $307,000, while Austria generated $44,000.
PARAMOUNT PICTURES INTERNATIONAL
UPDATED: Transformers: The Last Knight grossed a further $69.8m from 44 markets, including three new openings, lifting the international total to $332m.
France, India and Belgium all debuted at number one on $5.5m, $3.4m and $761,000, respectively.
China's delivered $30.6m in its second weekend for $196.8m, Germany added $3.8m for $10m, while South Korea generated $3m for $17.6m. Russia grossed $2.3m over the weekend for $13.3m after two weekends. The UK added $2.1m for $10.1m after two weekends, Malaysia generated $1.8m for $7.1m, Australia $1.7m for $6.3m, and Italy $1m for $3.9m.
The Philippines added $985,000 for $5.1m, Taiwan $1.2m for $6m, Hong Kong $1.1m for $4.3m, while Singapore added $781,000 for $3.9m after two weekends. Brazil is the next market to release on July 20.
Baywatch grossed $8.5m from 56 over the weekend, lifting the international tally to $94.9m. France brought in $2.4m for $6.1m, Germany added $1.4m for $15.1m, while Mexico delivered $742,000 for a $7.1m running total.
WARNER BROS PICTURES INTERNATIONAL
UPDATED: Wonder Woman added $15.5m from 64 markets, a drop of just 36% in its fifth weekend, for $363.4m internationally. The film stands at $709.6m worldwide.
Top holdovers for Patty Jenkins' tentpole include Brazil, where the film sits at number two and ranks as Warner Bros' third biggest release ever after adding $1.7m for $29.9m following a 31% drop. France gained 2% over last weekend and produced $1.7m for $13.2m.
Australia produced $1.4m for $19.8m, Germany $1.3m for $7m after three weekends, Spain $1.1m in week two for $4.8m, and the UK generated $1.2m for $26.3m.
China remains the top market by a large margin on $88.5m, followed by Mexico on $22m, South Korea on $15.5m, Taiwan on $10.6m, and Philippines on $10.5m. Japan will be the final market to open in late August.
Will Ferrell and Amy Poehler comedy The House debuted in 20 international markets, generating $2.7m from 1,272 screens.
Australia produced $1.2m and the UK delivered $611,000 from 418 screens.
Teen romance Everything, Everything generated $2m from 33 territories in release. The film stands at $12.2m internationally. King Arthur: Legend Of The Sword stands at $102.7m.
FOX INTERNATIONAL
Diary Of A Wimpy Kid: The Long Haul added $2.1m from 10 markets bringing the international total to $13m. Australia debuted on $1.3m, including previews.
Alien: Covenant grossed $832,000 from nine markets, elevating the international sum to $157.8m. China produced $721,000 for $44.4m after three weekends.
Captain Underpants: The First Epic Movie stands at $7.4m, with seven markets set to release in July, including the UK on July 24.
WALT DISNEY STUDIOS MOTION PICTURES INTERNATIONAL
UPDATED: Early in its international release, Cars 3 added $5.3m over the weekend bringing the international tally to $55.3m. Mexico and Russia are the top markets on $14.3m and $9.8m, respectively.
Australia is the next top grossing market on $4m, dropping only 19% from its opening weekend. Colombia has delivered an estimated $3.1m, while Poland and Panama have generated $3m each. There are no new openings this weekend.
Pirates Of The Caribbean 5 added $18.1m from 48 markets for $545m internationally.
The Johnny Depp action tentpole crossed the $700m mark at the global box office after five weeks of release. The film has amassed $709m, including $543m internationally and $166m from North America.
Pirates 5 is now The Walt Disney Studios' third release of 2017 to reach $700m globally, and the fourth Pirates film to do so. Combined, the five Pirates Of The Caribbean films have now surpassed $4.4bn worldwide.
The film debuted in Japan this week on $9.2m. China is the top market on $172.3m, followed by Russia on $40m, Germany on $27.6m, France on $24.9m, and the UK on $24.7m.
Guardians Of The Galaxy Vol. 2 added $500,000 for $472.2m.
Meanwhile, Beauty And The Beast has reached $108.5m in Japan, making it the third highest grossing Disney release ever there behind Frozen and Armageddon.
The UK has produced $90.5m, followed by China on $85.8m, Brazil on $41.5m and South Korea on $37.5m.
SONY PICTURES RELEASING INTERNATIONAL
UPDATED: Edgar Wright's Baby Driver generated $6.9m this weekend from 16 markets, the beginning of a long summer roll-out from Sony Pictures Releasing International.
The film staring Ansel Elgort, Kevin Spacey, Jon Hamm and Eiza González opened in just one major market, the UK, which produced $4.5m. When compared to the same 16 territories, the opening was 13% ahead of Now You See Me, with the UK performance 32% higher than that of Now You See Me.
The film produced by Sony and MRC will debut in Spain this week.
Scarlett Johansson comedy Rough Night grossed $2.7m from 25 markets, taking the international sum to $11.5m. Germany debuted on $1.5m, including previews, 5% ahead of Trainwreck. Spain will be the next market to open on July 21.