Walt Disney Animation Studios also reveals UK release date.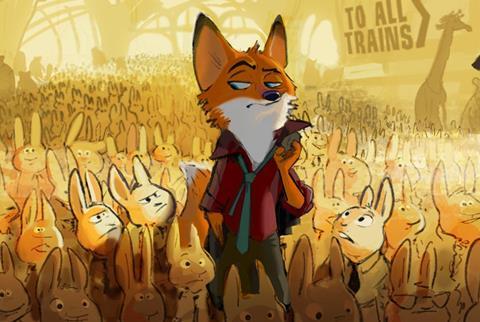 Zootopia, the next feature to be released by Walt Disney Animation Studios, has been renamed Zootropolis for its UK release.
A spokesman for Disney explained: "In the UK we decided to change the US title (Zootopia) to Zootropolis to merely allow the film to have a unique title that works for UK audiences."
Disney also revealed that the animated feature will receive its UK theatrical release on March 25, 2016. It is set for US release on March 4, 2016.
The film is based in the animal city of Zootopia, where optimistic new police officer Judy Hopps discovers that being the first rabbit on a force of big, tough animals isn't so easy.
Determined to prove herself, she jumps at the opportunity to crack a case, even if it means partnering with a fast-talking, scam-artist fox, Nick Wilde, to solve the mystery.
The comedy adventure is directed by Byron Howard (Tangled, Bolt) and Rich Moore (Wreck-It Ralph, The Simpsons) and co-directed by Jared Bush.
Disney will be hoping to mirror the success of its previous two releases: Frozen, which made more than $1.27bn at the global box office following its release in Nov 2013; and Big Hero 6, which has made more than $600m since its release in Nov 2014.
The animation studio's Nov 2016 release will be musical feature Moana, described as a "mythic adventure set around 2,000 years ago and across a series of islands in the South Pacific".
It will be centred on Moana Waialiki, a teenage sea-voyaging enthusiast and the only daughter of a chief in a long line of navigators who sets off on an epic journey to find a fabled island and teams up with demigod Maui, encountering sea creatures, underworlds and spirits taken from Polynesian mythology.