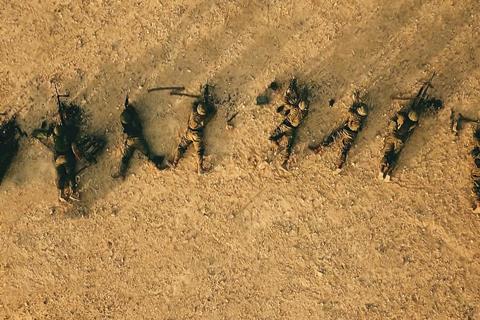 Docaviv, the Israeli film festival for non-fiction cinema, has set the Israeli films for its 25th anniversary edition including a 13-strong main competition.
The 13 films – eight of which are world premieres – will compete for the best Israeli documentary award.
Scroll down for the full list of Israeli competition films
Docaviv will run from May 11 to 20 this year in Tel Aviv, screening 120 titles across the festival. 350,000 NIS (£78,908) in prize money will be available across the festival, including the 70,000 NIS (£15,796) award for best Israeli film.
World premieres in the Israeli competition include Inbal Perlmutter – If You Let Me Go, about the life, work and mysterious death of the eponymous local rock legend; 1948, which uses letters and diaries written during the 1948 Palestine war to bring to life the people who wrote them; and Silver's Uprising, about a significant trial of a former orthodox child who transformed the Israeli drug-dealing business.
The section will also host the Israeli premiere of Innocence, Guy Davidi's documentary about Israeli military service, which had its world premiere in Horizons at Venice in September.
The festival has six further sections: the Beyond the Screen competition, Panorama, Music Docs, Art and Culture, plus student and shorts competitions.
World premieres amongst these sections include End Of Love Season in Panorama, about a couple who separate after 55 years, and have a wall built down the middle of their house.
It will also show May I Please Film You?, a compliation of three documentary shorts by women filmmakers from the Arab Society in Israel, providing their perspectives on life for Arab women in the country.
The festival will also host a special event in honour of Israeli presenter Modi Bar-On, who died last year aged 59. Further titles including international films will be announced next month.
Docaviv is planning to continue as scheduled, amid significant protests in Israel against plans for judicial reform by the right-wing coalition government led by Benjamin Netanyahu.
"These are turbulent times and we follow them closely and will act from core values, keeping with the festival's tradition," said a festival statement. "Our program includes Israeli and international documentaries that explore the topics of liberty, equality, and democracy, topics which are at the core of the protests and have always been a significant part of our program."
Docaviv 2023 Israeli Competition
* - world premiere
1948, dir. Neta Shoshani, prods. Mika Timor, Yotam Guendelman for Silvio Films*
A Minor Crime, dir. Nur Fibak, prod. Assaf Amir for Norma Productions
A Movie At The Center, dirs. Kobi Farag, Morris Ben-Mayor, prods. Kobi Farag, Liron Amir for Ben-Mayor Farag Studio*
Inbal Perlmutter – If You Let Me Go, dirs. Avigail Sperber, Sharon Luzon, prods. Sharon Luzon, Avigail Sperber, Dana Guti for Pardes Production*
Innocence, dir. Guy Davidi, prods. Hilla Medalia, Sigrid Dyekjaer for Medalia Productions, Danish Documentary
Lies I Told Myself, dir. Efim Graboy, prod. Yahaly Gat for Muse Productions*
My Project X, dir. Limor Pinhasov, prod. Lilach Shayo for Cicero Films
Nora, dir. Matan Ben Moreh, prods. Haggai Arad, Aharon Peer, Elad Peleg for Daroma Productions*
Observation Diary, dir. Itay Marom, prods. Itay Marom, Idit Kliger*
Once Upon A School, dirs. Tal Becher, Yair Agmon, prods. Omir Uzrad, Yoav Zeevi, Tal Becher, Yair Agmon for Zeevi/Uzrad, Yalla Films
Radio Propaganda, dir. Ofer Pinchasov, prod. Ofer Pinchasov for Ofer Pinchasov Productions
Silver's Uprising, dir. Dan Shadur, prods. Dan Shadur, Ido Mizrahy for Shadurian Films, Restless Pictures*
Tzipora and Rachel Are Not Dead, dirs. Hadar Morag, prod. Hadar Morag*