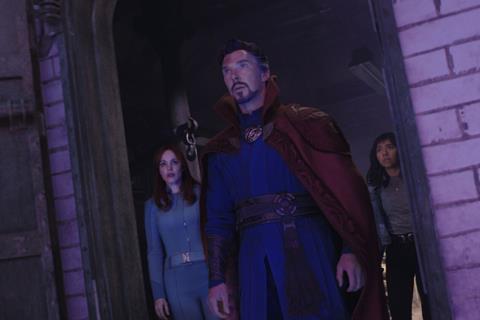 Worldwide box office May 6-8
Rank

Film

(distributor)

3-day

(world)

Cume

(world)

3-day

(int'l)

Cume

(int'l)

Territories

1.

Doctor Strange 2

(Disney)

$450m
$450m
$265m
$265m
50
2.

The Bad

Guys

(Universal)

$17m
$148.1m
$7.2m
$90.6m
65
3.

Fantastic

Beasts 3

(Warner Bros)

$14.8m
$363.7m
$10.8m
$277.7m
75
4.

Sonic The

Hedgehog 2

(Paramount)

$14.4m
$349.4m
$8.2m
$179.5m
62
5.

The Lost City

(Paramount)

$7.9m
$162.8m
$5.4m
$68.4m
58
6.

Downton

Abbey:

A New Era

(Universal)

$6.6m
$22.6m
$6.6m
$22.6m
42
7.

The

Northman

(Universal)

$5m
$51.6m
$2.2m
$23.5m
46
8.

Everything

Everywhere

All At Once

(various)

$4.1m
$48.3m
$0.7m
$6.7m
13
9.

Another

One

(Empire Industries)

$3.1m
$5.5m
$3.1m
$5.5m
6
10.

Memory

(various)

$2.1m
$7.5m
$0.8m
$2m
18
Credit: Comscore, all figures estimated, click top right to expand
'Doctor Strange 2' scores second biggest debut of US film in pandemic era
After just one weekend of play, Disney/Marvel Studios' Doctor Strange In The Multiverse Of Madness is already a long way towards matching the total global gross of 2016's Doctor Strange. The Sam Raimi-directed sequel has debuted with an estimated $185m in North America and $265m in 49 international markets, combining for $450m worldwide.
That compares with a $678m lifetime global total for Doctor Strange – which had the benefit of both Russia and China (grossing a combined $131.5m). The second Doctor Strange film has yet to be allocated a release date for China.
Doctor Strange In The Multiverse Of Madness has delivered the second-biggest opening for a US studio film in the pandemic era, as well as the biggest debut for any film in 2022. In like-for-like territories, it's achieved the fourth biggest Marvel Cinematic Universe (MCU) opening of all time, behind only Avengers: Endgame, Avengers: Infinity War and Spider-Man: No Way Home.
In major market South Korea, the Doctor Strange film has delivered the biggest opening of the pandemic era (with an estimated $30.0m), as well as one of the top 10 biggest openings of all time. The MCU sequel likewise achieved the latter feat in fellow major markets Brazil and Mexico, as well as a number of smaller territories including Chile, Colombia, Turkey, Malaysia and Philippines.
The estimated $450m global opening compares with a $600.8m debut for Spider-Man: No Way Home back in mid-December – a 25% shortfall. However, in like-for-like markets, Doctor Strange In The Multiverse Of Madness is only 17% behind the earlier Marvel title. It's also 126% ahead of The Batman and 160% ahead of Doctor Strange on a like-for-like basis at the same stage of release.
In North America, 36% of box office came from premium formats including IMAX, premium large format (PLF) and 3D. Across Europe, 3D or other PLFs accounted for 50% in Germany, 24% in France and 17% in UK. In Latin America, 25% of box office came from 3D, led by Brazil with 46%.
In international markets, South Korea led the way, followed by UK and Ireland (an estimated $24.7m), Mexico ($21.5m), Brazil ($16.3m) and India ($12.7m). Next come Australia ($12.6m), Germany ($12.0m), France ($11.0m), Japan ($9.4m) and Italy ($9.0m).
'The Bad Guys' nabs runner-up spot
UPDATED: Universal's release of DreamWorks Animation's The Bad Guys achieved decent traction over the weekend, grabbing a confirmed $9.6m in North America (down 41%) and $7.4m for international (down 41%). Those numbers saw the film move up to second place in the global box office chart, ahead of two titles – Fantastic Beasts: The Secrets Of Dumbledore and Sonic The Hedgehog 2 – that had both eclipsed it the previous weekend.
Totals for The Bad Guys are now $57.4m in North America, $90.8m for international, and $148.1m worldwide.
The film was boosted by release in South Korea, opening last Thursday on the local Children's Day holiday – and delivering a confirmed total of $1.9m for the four days. It also added $2.6m in China in its second weekend of play, once again topping the country's box office. Total there after two weekends is $14.2m.
The Bad Guys is playing in 64 international markets. Japan welcomes the film in October.
'Downton Abbey: A New Era' expands – reaches $22m
UPDATED: In its second week of international play, Downton Abbey: A New Era expanded from 33 to 42 territories, grossing a confirmed $6.5m at the weekend, and taking the total to $22.2m. The nine new markets are all relatively modest in size, and are led by Finland (with $591,000 including previews) and Belgium ($190,000).
In holdover markets, UK/Ireland led the field with a confirmed $1.9m, ahead of Australia ($992,000). In cumulative totals, UK/Ireland likewise leads (with $9.6m), ahead of Australia ($2.9m), France ($2m), Germany ($1.5m) and Netherlands ($1.3m).
Future key markets include North America (May 20), China (May 20) and Japan (September 30).
A New Era is now 23% of the way to reaching the $96.9m achieved by the original Downton Abbey film in international markets. That 2019 release matched its international haul with its North America box office, and reached $194m worldwide.
'Fantastic Beasts 3' tumbles to third place
UPDATED: The fifth week of release for Warner Bros' Fantastic Beasts: The Secrets Of Dumbledore saw the film tumble from first to third place at the global box office, with takings down 52% in North America and down 60% for international. Global total is now $364.7m.
Among international markets, Japan leads with $32.2m so far, ahead of Germany ($27.4m), UK/Ireland ($25.5m), China ($24.6m) and France ($21.2m).
The Secrets Of Dumbledore has so far reached 45% of the lifetime total achieved by Fantastic Beasts And Where To Find Them ($814m worldwide) and 56% of the total for The Crimes Of Grindelwald ($655m).
'Everything Everywhere All At Once' nears $50m worldwide
A24's release of indie crossover hit Everything Everywhere All At Once experienced its biggest drop to date at the North America box office, falling 40% in its seventh week of release, with estimated takings of $3.3m. Domestic total is $41.6m, and globally it is $48.3m. The film lands in UK/Ireland this Friday (May 13), by which time it will already have reached $50m worldwide.