Marvel film topped the buzz chart again, beating opener A Street Cat Named Bob.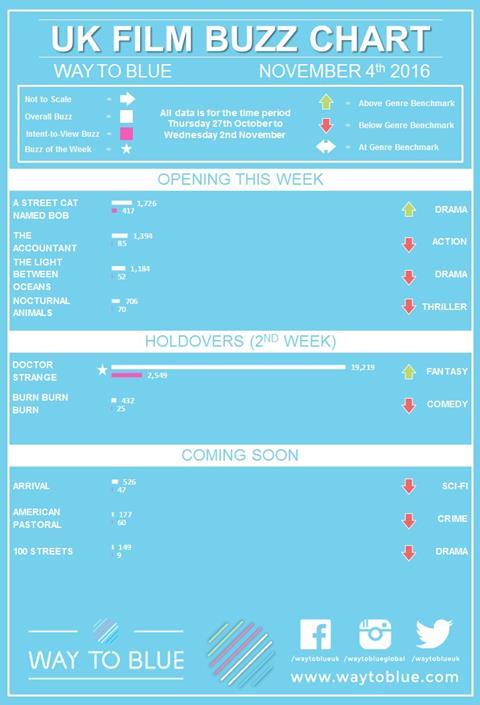 Doctor Strange dominated this week's social media buzz chart for the third consecutive week, according to marketing firm Way To Blue.
Disney's latest Marvel adaptation, starring Benedict Cumberbatch, which opened on October 25 in the UK, landed with an $86m debut at the international box office this week. The film amassed 19,219 comments across social media, news, forums and blogs from October 27 - November 2. Of those, 2,549 registered an intent to view.
The week's second buzziest title was A Street Cat Named Bob, which opens in UK theatres tomorrow (November 4). The feline family feature scored 1,726 comments, 417 of those expressing an intent to view.
Street Cat's second place crown was closely trailed by Ben Affleck-starring thriller The Accountant, which amassed 1,394 comments, and Michael Fassbender and Alicia Vikander-starring period romance The Light Between Oceans, scoring 1,184. Both films opened this week.
For an explanation of the Way to Blue chart and its methodology, which tracks 'overall buzz' and important 'intent to view' buzz, click here.