NOVEMBER 14 UPDATE: Marvel's latest has already surpassed the lifetime global hauls of Captain America: The First Avenger and Thor, among others.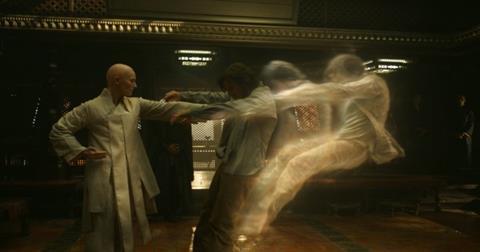 WALT DISNEY STUDIOS MOTION PICTURES INTERNATIONAL
Doctor Strange is nearing $500m worldwide after continuing to dominate in its third weekend of release.
Marvel's latest added $103.2m worldwide for a global haul to date of $492.6m, with a $60.2m overseas weekend from its 53 territories lifting it to $339.6m. At IMAX screens, the film has grossed $54m following a $12m second weekend globally.
With no new openings, overseas drop-off from last weekend was only 48%, with Doctor Strange especially strong in EMEA as it held the top spot for the third straight weekend in Denmark and the Netherlands. It also remained at number one in the likes of Australia, South Korea, China and Russia.
Its top five overseas territories to date are China ($83.5m), South Korea ($37.1m), the UK ($24.2m), Russia ($20m) and Germany ($13.9m), with a Japanese release to come on January 27.
In terms of Marvel Studios outings, Doctor Strange has already surpassed the lifetime global hauls of The Incredible Hulk ($263m), Captain America: The First Avenger ($371m) and Thor ($449m), with Ant-Man ($520m) next in its sights.
FOX INTERNATIONAL
UPDATE: With no new openings, Trolls danced to an additional $20.1m from its 72 markets for $130m to date.
DreamWorks Animation's latest offering retained the top spot in Spain ($1.4m for $6.4m), Mexico ($1.7m for $5m) and Argentina ($368k for $1.5m), as well as posting strong holds in the likes of the UK ($2.3m for $24.6m) and France ($1.8m for $16.7m).
It's still to open in eight more markets, including Australia on December 1.
Keeping Up With The Joneses added $4m from its 23 markets to lift its overseas tally to $10.7m. The action comedy posted decent openings in China ($1.6m from 1,500 screens), Russia ($959k from 733) and Indonesia ($420k from 205).
Tim Burton's Miss Peregrine's Home For Peculiar Children is up to $173m following a $2.2m weekend from its 48 markets. It fell only 18% in France with a $923k sixth weekend for $19.9m so far.
SONY PICTURES RELEASING INTERNATIONAL
Ang Lee's Billy Lynn's Long Halftime Walk opened in ten markets across Asia with a $13.2m bow from more than 6,600 screens.
It was the top new opener in China, landing second behind Doctor Strange with an estimated $11.7m debut. China, Taiwan Hong Kong and Macau were released by Bona Film Group.
The majority of the overseas rollout begins in January with Brazil on January 19 and Mexico on January 20.
Boosted by a chart-topping $3.1m debut in France, Inferno uncovered an extra $8.6m from its 61 markets for $171m to date. The latest Dan Brown adaptation held strong in Japan with a $935k third weekend for $10.9m.
Spanish rom-com No Culpes Al Karma De Lo Que Te Pasa Por Gilipollas posted an $810k debut in Spain from 315 screens as the weekend's highest new entry.
ASIAN TITLES
Launching in four new territories, Japanese animation One Piece Film: Gold added an estimated $10.5m, according to ComScore, for $59.5m to date.
Family comedy Scandal Maker posted a $5m debut in China
ARRIVAL
Denis Villeneuve's critically acclaimed Arrival started its international rollout through FilmNation Entertainment and Sony Pictures Releasing International with an estimated $10.2m from its 25 markets.
In its FilmNation Entertainment territories, the sci-fi grossed an estimated $5.6m from four territories, led by the UK's preview-boosted $3.5m bow for Villeneuve's best-ever opening in the territory. It also achieved the director's best-ever debut in Australia ($1.6m) and New Zealand ($293k).
From its 21 Sony markets, Arrival landed with $4.6m ahead of its release in Spain next weekend. The film opened top in Russia with $1.8m from its 925 screens and debuted to $665k from 362 in Mexico.
PARAMOUNT PICTURES INTERNATIONAL
Opening in eight new markets, Jack Reacher: Never Go Back shot to an extra $8.6m from its 54 markets for $73m to date.
The action sequel landed in third in Japan and Germany with debuts of $2.6m from 343 sites and $1.8m from 507, respectively, and also landed in Spain with $784k from 327 sites and Belgium with $320k from 50.
It's still to open in Brazil (November 24), Mexico (November 25) and South Korea (November 30).
WARNER BROS PICTURES INTERNATIONAL
UPDATE: Holding well in the markets it opened last weekend, The Accountant accumulated another $7.6m from its 63 markets for $51.3m so far.
The Ben Affleck crime thriller fell only 32% in the UK with a $1.3m second weekend for $4.4m to date, while it added $1m in Mexico for $3.3m and $891k in Australia for $2.5m.
Willkommen Bei Den Hartmanns retained the top spot in Germany with a $4.5m second weekend, a boost of 3% on its opening, for $10.3m so far. It is a production of Wiedemann & Berg Film GmbH & Co. KG and Sentana Filmproduktion.
Storks delivered a further $2.6m from its 56 markets for $102.6m, while Sully took $914k from its 19 markets (the majority coming from an $869k second weekend in Spain) for $63.4m to date.
THE GIRL ON THE TRAIN
UPDATE: Currently playing in 35 territories, The Girl On The Train journeyed to $6.2m for $80.5m to date through Mister Smith Entertainment and Universal.
From its 16 Universal territories, DreamWorks Pictures' adaptation added $2.3m for $9.9m, led by a $1.1m debut in Mexico to chart third and a $597k second weekend in Russia for $2.9m. It opens in Argentina, Panama and Japan next weekend.
UNIVERSAL PICTURES INTERNATIONAL
UPDATE: Creeping into South Korea with a strong $1.5m from 313 sites, Ouija: Origin Of Evil scared up $5.9m from its 49 territories for $41.4m overseas.
Blumhouse and Platinum Dunes' horror prequel also opened in Russia with $564k from 651 sites to chart seventh, and has two more releases to come in Turkey next weekend and Belgium on November 24.
Bridget Jones's Baby added $3m from its 40 territories for $183.2m to date internationally (including Studiocanal territories). It opens in Paraguay next weekend.
Nocturnal Animals grossed $1.3m from its three markets for an early $2.8m after opening in Australia ($468k) and New Zealand ($47k). It added $769k in the UK for a ten-day tally of $2.3m and lands in the likes of Italy and Poland next weekend.
Focus Features' A Monster Calls enjoyed a $897k sixth weekend in Spain for $26.7m so far, while Illumination Entertainment's The Secret Life Of Pets now stands at $505.5m overseas and $872.7m worldwide.
STUDIOCANAL
In its second weekend, La Folle Histoire De Max Et Léon added an estimated $2.8m in France for $7.9m to date, according to ComScore.
PATHE
Comedy Ma Famille T'Adore Déjà recorded a $2.1m debut in France, according to ComScore.