NOVEMBER 7 UPDATE: Disney crosses $6bn at worldwide box office and Pixar's Finding Dory becomes second biggest global release so far this year on $1.024bn.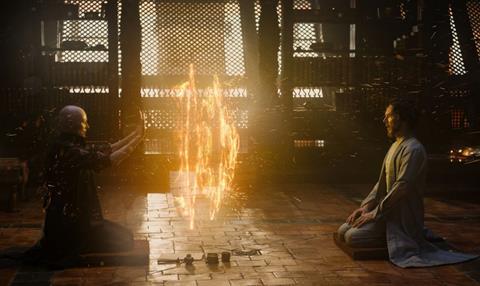 WALT DISNEY STUDIOS MOTION PICTURES INTERNATIONAL
Disney crossed $6bn worldwide on Sunday thanks to an estimated $118.7m second weekend from Doctor Strange and $84.9m from its North American bow, meaning the superhero adaptation has now conjured up $325.4m worldwide after 13 days of release.
Marvel Studios' latest offering was active in 53 territories and boosted the international tally to $240.4m to date. Its best new opening came in China with a three-day haul of $44.3m, making it the biggest opening weekend for an original superhero outing.
Doctor Strange also enjoyed strong debuts in Brazil ($7.9m) and Russia ($12.4m for $15.4m including IMAX previews), while it recorded great holdovers in Europe with drops of only 12% and 19% in Germany and Austria, respectively.
At 1,001 IMAX screens worldwide, it grossed $24.2m from its 66 markets for $35m so far as it became the first film to ever play on more than 1,000 IMAX screens in a single weekend.
Driven by Doctor Strange's global weekend, The Walt Disney Studios has crossed the $6bn at the worldwide box office for the first time ever and only the second time in industry history. Last week, Disney surpassed its own previous global record.
Finding Dory has now swum past Zootopia to become the second biggest release of 2016 to date and the fourth-biggest animation of all time. Pixar's well-received sequel has now amassed $1.024bn, with $538.1m coming from overseas markets.
FOX INTERNATIONAL
UPDATE: Trolls has crossed the $100m mark at the overseas box office as a $30m weekend from its 69 markets lifted it to $104.8m.
DreamWorks Animation's latest offering opened in Mexico with a chart-topping $2.6m and posted fantastic holdovers in Europe, with eight markets seeing week-on-week increases.
It fell only 4% in Russia with a $3.9m second weekend for $9.7m to date, while the UK added $2.5m for $21.9m after three weeks in play. There are still 11 markets to release, including Australia on December 1.
With no new openings, Miss Peregrine's Home For Peculiar Children took $3.7m from its 59 markets for $170.2m to date. France led the way with a $1.1m fifth weekend for a local tally of $18.8m.
Tim Burton's latest is still to open in China (December 2), Italy (December 15) and Japan (February 3).
Fox International Productions and FoxStar's Ae Dil Hai Mushkil enjoyed a $3.6m second weekend in its two markets for $21.3m. It retained the lead in India with $3.3m for $19.9m.
Ahead of its openings in China and Russia next weekend, Keeping Up With The Joneses stands at $6.3m.
WARNER BROS PICTURES INTERNATIONAL
UPDATE: The Accountant accumulated a confirmed $13.1m from its 63 territories, dropping only 37% in holdover markets, for $38.5m to date overseas.
Its biggest new opening came in the UK with a preview-boosted $2m from its 497 screens to chart third, followed by a number three bow of $1.5m from 720 screens in Mexico and a number two opening in Australia with $1.2m from 293 screens.
German local title Willkommen Bei Den Hartmanns posted a chart-topping $4.7m debut from its 586 screens. It is a production of Wiedemann & Berg Film GmbH & Co. KG and Sentana Filmproduktion, distributed by Warner Bros Entertainment GmbH.
Opening with $478k in Japan from 220 screens, Storks flew to an extra $3.6m from its 59 markets for $99.3m so far, with China its current leading overseas market with $11.6m.
In Japan, Death Note: Light Up The New World recorded a $2m second weekend for $11.5m to date. The film is a Death Note Film Partners Production, led by Nippon Television.
Sully added $1.6m from its 21 markets for $61.9m overseas, with the majority of its weekend take coming from its $1.4m debut in Spain from 309 screens.
SONY PICTURES RELEASING INTERNATIONAL
Inferno uncovered $11.4m from its 61 markets for $159.3m ahead of its release in France next weekend.
The latest Dan Brown adaptation posted a $2.1m second weekend in China for $20.1m and only fell 36% in Japan with a $1.7m second weekend for $8.5m, as well as opening in Hong Kong with $825k from 114 screens.
With France to release on November 30, Sausage Party grossed $1.3m from its 22 markets for $40.7m so far. More than half of its weekend take came from an $860k debut in Italy from 200 screens.
A Street Cat Named Bob, based on the bestselling book, opened with $1.1m from its 440 screens in the UK.
MISTER SMITH ENTERTAINMENT
UPDATE: Including 12 Universal territories, The Girl On The Train journeyed to $8.5m from its 51 markets for $69.9m to date.
DreamWorks Pictures' adaptation opened with a strong $1.9m from its 721 sites in the Universal-distributed market of Russia, and arrives next weekend in Ecuador, Mexico, Paraguay and Uruguay.
In its Mister Smith territories, the film opened top in Denmark and is battling it out with Doctor Strange's second weekend for the number one spot in Italy.
UNIVERSAL PICTURES INTERNATIONAL
UPDATE: Opening in six new territories, Ouija: Origin Of Evil scared up $8m from its 48 territories for $32.9m to date.
Blumhouse and Platinum Dunes' horror prequel posted its best opening in Indonesia as it charted second with $1.5m from 220 sites, followed by France with $1.1m from 172 sites. It opens in South Korea and Russia next weekend.
Bridget Jones's Baby crossed the $200m at the global box office yesterday (November 6).
Overseas, Universal Pictures, Miramax and StudioCanal's presentation of Working Title's threequel delivered $4.8m from its 51 territories for $178.1m. Germany led the way with a $1.3m weekend for a local tally of $8.6m.
Becoming the highest-grossing release this year to date in Spain, Focus Features' A Monster Calls continued its great run in Spain with a $1.5m fifth weekend for $25.2m.
Nocturnal Animals started its international rollout with a promising $842k debut in the UK from 242 sites, and will add more sites next weekend. The adaptation opens in Australia and New Zealand next weekend.
The Secret Life Of Pets and Kubo And The Two Strings stand at $504.2m and $21m, respectively.
CHINESE TITLES
Mystery thriller Hide And Seek posted an estimated $5.9m debut in China, according to ComScore.
From its three territories, Mr. Donkey added $4.4m for $19.2m to date, while Crayon Shin-chan: Fast Asleep! Dreaming World Big Assault! opened with $2.5m in China.
Dante Lam's hit Operation Mekong now stands at $171m.
PARAMOUNT PICTURES INTERNATIONAL
Jack Reacher: Never Go Back shot to a further $4.3m from its 46 markets for $62.7m to date.
The action sequel added $709k in the UK for $8.5m after three weeks in play and stands at $6.3m and $4.3m in France and Australia, respectively. It opens in Germany, Japan and Spain next weekend.
STUDIOCANAL
La Folle Histoire De Max Et Léon posted an estimated $3.1m debut in France, according to ComScore.
SHOWBOX
Currently playing in four territories, Luck-Key unlocked another estimated $2.8m for $43.5m to date, according to ComScore.