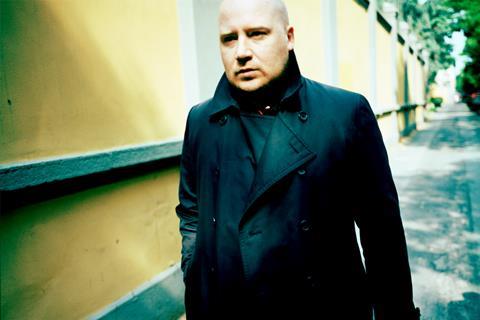 A new documentary feature about the late Icelandic composer Johann Johannsson was introduced at the Stockfish film festival's industry days in Iceland.
Directors Orri Jonsson (Grandma Lo-Fi) and David Horgdal Stefansson and producer Anton Mani Svansson (A White, White Day) are in the research phase for the film, currently titled A Deal With Chaos, and have been gathering archive material for more than two years. The team hopes to begin shooting new interviews soon, and expects the feature documentary will be ready to launch in 2023 or 2024.
Svansson said the hopes the film will be a mixture of never-before-seen archive footage as well as new interviews – including "lively ones where we have a couple of people interacting together."
"We're going into his creative process starting with him as a shy teenager from a rock band in the 1980s in Reykjavik. His story is so interesting and inspiring. I love this quote from him that he said; 'I feel like I need to make twice the effort because I don't have any real talent.' That's how he thought of himself, so he just worked like crazy. I think it's a story about creativity and this creative force, and then the question of balancing it and keeping yourself sane while you're making your art."
The film is being made with the consent of Johansson's family. The musician and composer died in 2018 at the age of 48, having released many albums himself and composing scores for films including The Theory of Everything, Arrival and Sicario, which was nominated for an Oscar and a Bafta. He also directed the short End Of Summer and the feature First And Last Men.
Other projects
Other projects presented at Stockfish's Works in Progress include Ari Alexander Ergis Magnússon's Loss, produced by Fridrik Thor Fridriksson, Gudrun Edda Thorhannesdottir and Gisli Hauksson. The film, about a man dealing with the death of his wife, completed shooting in Reykjavik last week and also will shoot this summer in the Faroe Islands.
Ásthildur Kjartansdóttir (The Deposit) will shoot her new feature Vergo from September in the Icelandic Highlands, about a family dealing with loss.
Ísold Uggadóttir, who won Sundance's world cinema directing prize in 2018 with her immigration drama And Breathe Normally, is now working on a 4x45' documentary, The Tower, about 50 years of child abuse at a Catholic school in Reykjavik. The series is made with Icelandic public broadcaster RUV.
Filmmakers attending this year included Brazil's Kleber Mendoca Filho and producer Emilie Lesciaux, showing their films Bacarau, Neighbouring Sounds and Aquarius; Apples director Christos Nikou from Greece; and Italy's Emanuele Gerosa with One More Jump.
Industry speakers also included Federica Sainte-Rose from CAA, screenwriter Pamela Ribon and green expert Anika Kruse.
Stockfish Film Festival, which ran March 24-April 3 this year, is organised with the professional film associations in Iceland: The Icelandic Filmmakers Association, The Film Director's Guild of Iceland, Association of Icelandic Film Producers, Icelandic Actors Guild, The Icelandic Cinematographers Society and The Icelandic Dramatists' Union.
This year's Shortfish competition awarded four winners: Hlynur Palmason's Nest (which premiered at Berlinale) won the fiction award; Brávallagata 12 by Birna Ketilsdóttir won documentary; CHRYSALS by Eydís Eir Brynju-Björnsdóttir won experimental; and Vesturbæjar-beach by Snæfríður Sól Gunnarsdóttir won the artistic music video prize. Those four winners will be shown on Siminn television and also receive support from equipment company KUKL.