EXCLUSIVE: Silver Linings Playbook producer options UK novel from Kill Your Friends writer.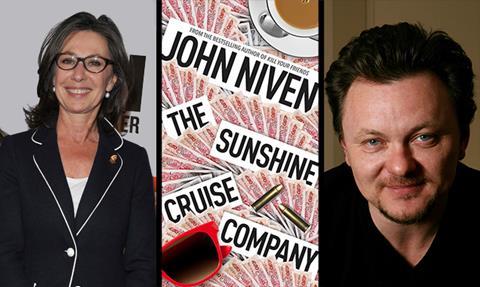 Silver Linings Playbook and Shakespeare In Love producer Donna Gigliotti has acquired screen rights to novel The Sunshine Cruise Company, the new book from Kill Your Friends writer John Niven.
The biting satire on friendship, ageing, the English middle classes and the housing bubble will be published in the UK this month by Random House subsidiary Cornerstone.
Gigliotti struck the deal under her Levantine Films banner with Curtis Brown and is eyeing an autumn shoot next year with Niven (Kill Your Friends) on board to write the screenplay.
The Sunshine Cruise Company follows two 60 year-old women from a small Dorset town who have been friends since school.
On the surface Susan Frobisher has it all – a lovely house and a long marriage to accountant Barry. Life has not been so kind to Julie Wickham, but now, with several failed businesses and bad relationships behind her, she has found stability: living in a council flat and working in an old people's home.
Then Susan's world is ripped apart when Barry is found dead in a secret flat – or rather, a sex dungeon. It turns out Barry has been leading a double life as a swinger. He's run up a fortune in debts and now the bank is going to take Susan's home.
Until, under the influence of an octogenarian gangster named Nails, the women decide that, rather than let the bank take everything Susan has, they're going to take the bank. With the help of Nails and the thrill-crazy, wheelchair-bound Ethel they pull off the daring robbery, but soon find that getting away with it is not so easy.
Former Miramax executive Gigliotti, who set up Levantine Films last year with former TWC and New Line exec Renee Witt, told ScreenDaily: "This is a hilarious book. I was recently on a plane to LA and the stewardess actually came over to check I was ok as the tears were streaming down my face while reading it.
"The two principal characters are women in their 60s and I continue to be interested in films that speak to an underserved market. As remarkable as this may sound, I consider older women an under-served market. There are great casting possibilities."
The New York-based producer intends to shoot the film in the UK and France after production completes on her likely next feature Hidden Figures, the story of an unsung group of African American female mathematicians who helped NASA win the space race.
Alison Schroeder's script, an adaptation of the upcoming Margot Lee Shetterly book to be published next year by HarperCollins, has recently been snapped up by Fox 2000.
The production team is close to a deal with St. Vincent director Ted Melfi to direct and Gigliotti hopes to shoot in February or March next year.
Meanwhile, Niven's adaptation of his cult 2008 novel Kill Your Friends rolls out this year, with Nicholas Hoult, Ed Skrein, Rosanna Arquette and James Corden starring in the story of an A&R man working at the height of the Britpop music craze who goes to extremes in order to find his next hit.
The film was today announced as a Zurich Film Festival gala.