MTG's off-beat Nordic series set in the world of adult movies premiered at MIPTV.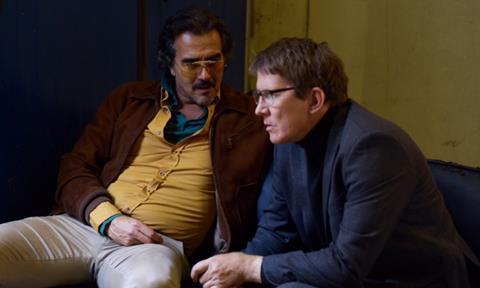 UK-based worldwide content distributor DRG has taken on sales of Nordic thriller Veni Vidi Vici, about a washed-up arthouse film director who gets caught up in the world of porn.
It is the latest Nordic series with international ambitions from Swedish production and distribution outfit MTG Studios.
Both companies are owned by burgeoning digital entertainment company Modern Times Group (MTG), but MTG Studios does not automatically distribute its productions through DRG.
Its recent comedy series Swedish Dicks - co-starring Keanu Reeves and Peter Stormare - is being sold internationally by Lionsgate, for example.
In the 10-part series Veni Vidi Vici, Danish actor Thomas Bo Larsen stars as pretentious film director Karsten Daugaard who agrees to direct a porn movie after his latest arthouse romance flops at the box office.
The decision introduces Karsten to the murky world of adult entertainment and will have unforeseen consequences for him and his family.
The series is written and directed by Rafael Edholm who is also co-stars as Vincent, Karsten's old film school friend turned adult entertainment producer who enlists his services.
Other cast members include Livia Millhagen and Canadian actor Michael Wincott.
Read more:
'Jailers', 'Babylon Berlin' clinch top jury prizes at MIPDrama Screenings
"Veni Vidi Vici has all the ingredients required to capture the attention of an international audience - intensity, complexity and fantastic performances from an all-star cast," said DRG CEO Jeremy Fox.
"The Nordic region is an amazing creative hub, and this series is a great example of a local production with truly global potential."
The series is due to premiere on Nordic streaming service Viaplay on April 13.
Prior to that the first episode in the series premiered at the MIPDrama Screenings showcase on Sunday (April 2), on the eve of MIPTV.
"MTG's storytelling knows no borders. Viewers in the Nordic region are already counting down to the Veni Vidi Vici premiere - and now we're taking it global together with DRG," said Jakob Mejlhede, MTG EVP and Head of Programming and Content Development.
Veni Vidi Vici and Swedish Dicks are the first original titles to come out of a drive by MTG Studios to become a major content player in the Nordic region.
Other upcoming productions include Alex, starring Dragomir Mrsic, The Lawyer, Embassy Down, a second season of Swedish Dicks, noir Hassel and bio-pic Super Swede about the life of Formula One driver Ronnie Peterson, which is MTG's first feature film.