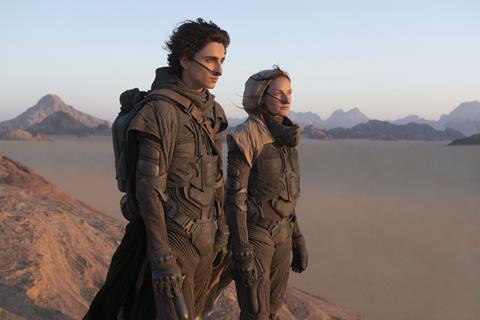 Legendary/Warner Bros' Dune, directed by Dennis Villeneuve, will be released in China on October 22, day-and-date with its release in North America and on HBO Max, while No Time To Die will open a week later on October 29.
No Time To Die will open three weeks after its North American release. The Bond franchise is popular in China, with Spectre making $84m in 2015 and Skyfall grossing $58m in 2013.
Dune is also expected to perform well due to the Chinese audience's interest in sci-fi; the fact that the film is best seen on a big screen, in particular IMAX screens with their higher ticket prices; and its links to Chinese funding, with co-financier Legendary owned by Wanda, which also owns China's biggest cinema chain.
The news marks the first time in months that major US studio tentpoles have been given China release dates, as titles such as Black Widow and Shang-Chi And The Legend Of The Ten Rings have been overlooked. It should also give a boost to a market that has been flagging in recent weeks, due to Covid-related cinema closures and seating restrictions and a lack of major new releases, either local or foreign.
Both films have been dated after China's National Day holidays (October 1-7), an unofficial blackout period for foreign films, which will see several big local films released, including The Battle At Lake Changjin, co-directed by Chen Kaige, Tsui Hark and Dante Lam.