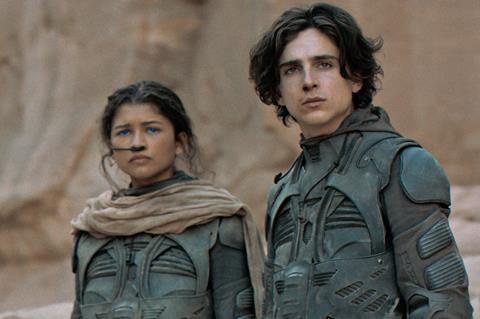 The long-awaited theatrical release of Denis Villeneuve's sci-fi epic Dune kicked off its European leg in France today (September 15) where Warner Bros France has launched it on 892 screens with strong early results.
It is the widest release thus far in France this year, surpassing Fast & Furious 9 which went out on 756 screens in July.
At its first, closely monitored 9am screening at the UGC Ciné Cité des Halles multiplex in central Paris, it was the top-performing film with 148 tickets sold, followed by Stephane Brizé's Venice competition title Another World with 63 spectators and Cannes Critics' Week selection Anais In Love with 18.
By 2pm local time it had scored the highest opening of the year for greater Paris, another key box-office marker in France, drawing 4,465 spectators (for an estimated gross of $35,000) roughly on 33 screens, according to box office monitor CBO Box Office.
It knocked Fast & Furious 9 off the top slot, which sold 3,022 tickets ($23,000) on 17 screens in the capital when it was released there on July 14.
It remains to be seen whether Dune can overtake Fast & Furious 9's nationwide, day-one performance, which saw it draw 468,862 spectators (for a gross of approximately $3.67m).
Comscore Movies France sent out a tweet on Tuesday that the feature had already moved to the top of the chart over the weekend, prior to its official release, on the basis of sold-out preview screenings across the country.
French reception
Dune fever has been high in France in the lead-up to the launch. After the world premiere in Venice on September 3 Villeneuve and key cast members Timothée Chalamet, Rebecca Ferguson and Zendaya headed to Paris for a packed preview at the Grand Rex cinema on September 6.
More than 2,700 spectators piled into the cinema to watch the film. Further preview screenings on September 13 - including on its vast 24-by-11-metre dropdown screen known as the 'Le Grand Large' and billed as the biggest in Europe – drew another 1,720 cinema-goers.
France's notoriously tough critics, who gave Christopher Nolan's Tenet a critical battering last year, have also embraced the tentpole. "Denis Villeneuve brilliantly rises to the challenge of Dune," wrote Le Monde of the director's adaptation of Frank Herbert's cult novel, while Telerama praised Villeneuve for delivering a film that was both "spectacular and introspective".
France is one of five European territories opening the film on Wednesday alongside Belgium, Norway, Sweden and Switzerland.
It then launches on September 16 in Denmark, Germany, the Netherlands and Italy as well as Azerbaijan, Belarus, CIS, Kazakhstan, Russia, Ukraine and the Asian territories of Singapore, Taiwan and Hong Kong. This will be followed by Austria, Estonia, Finland, Iceland, Latvia, Lithuania and Spain on September 17.
Warner Bros has also put together a major coordinated release in the Middle East where the film will hit screens on September 23 in Egypt, Bahrain, Kuwait, Lebanon, Qatar, Saudi Arabia and the United Arab Emirates.
The rest of the world will have to wait until next month with the UK release scheduled for October 21, ahead of the film's controversial day-and-date release in the US in cinemas and on HBO Max on October 22.
Warner Bros is handling worldwide distribution excluding China, where rights have been retained by LA-based Legendary Entertainment which majority financed and produced the feature.