All screenings cancelled of a film following the frontman of Eagles Of Death Metal, who were on stage at the Bataclan.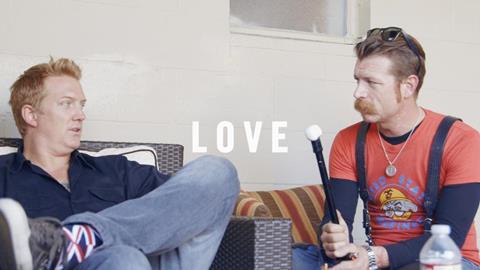 The aftershock from last Friday's Paris terror attacks have been felt at International Documentary Festival Amsterdam (IDFA), whose latest edition opened on Wednesday night with the world premiere of Dutch director Tom Fassaert's intimate feature doc, A Family Affair.
On Thursday, it was confirmed that all screenings of The Redemption Of The Devil, Alex Hoffman's film following Jesse 'the Devil' Hughes, frontman of Eagles of Death Metal, were to be cancelled.
Eagles Of Death Metal were performing at the Bataclan Theatre in Paris last Friday night when the venue was attacked by gunmen, who killed 89 people.
A statement said: "We regret to say the documentary The Redemption of the Devil has been cancelled. More information on refunds to follow."
More than 300 films
The cancellation has done little to dampen spirits at what is one of the biggest documentary events in the world.
There are more than 300 films screening over the next 10 days and many of the biggest names in the doc world will be in town.
Errol Morris (The Thin Blue Line, the Fog Of War) has come to the festival to programme his top 10 and to give a masterclass. Barbara Kopple (Harlan Country) is also at the festival.
As part of the programme, political theorist Benjamin Barber has selected 15 documentaries that relate to his 1995 book Jihad vs. McWorld, shortly to be reissued.
Industry sessions
Among the many industry sessions, there will be a talk on "How To Get Your Documentary To The Oscars" with Tom Oyer, awards manager at the Academy Of Motion Pictures, and another on "How To Be Successful in the American Market" featuring Cinetic Media founder John Sloss.
"What we try to do is really focus on films that are cinematic," said festival director Ally Derks of the festival's programming.
Derks was appointed a Knight of the Order of Arts and Letters (Chevalier dans l'Ordre des Arts et Lettres) at IDFA's opening ceremony in the Pathe Tuchinski in central Amsterdam.
"Courage is not the absence of fear"
In her opening speech, Derks, addressing the Paris attacks, quoted the Mayor of Amsterdam, Eberhard van der Laan: "If we allow fear to win, then the terrorists win. That is what they want: for us to allow fear to change our lives, and for divisions to grow.
"Of course, it is understandable to be afraid after such terrible, random attacks. Courage is not the absence of fear – courage is the ability to overcome fear.
"If we refuse to allow ourselves to be divided, and together stand up for our values of freedom and openness, the terrorists can never win."
Perks added: "We have done our best to make IDFA 2015 an unforgettable experience; one that honours the courage of documentary filmmakers and puts freedom of speech, openness and human rights in the spotlight."