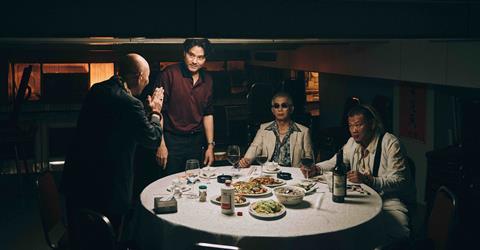 Hong Kong-based Edko Films has picked up international rights to three new titles from Hong Kong directors, including an as-yet-untitled satirical horror anthology from veteran filmmaker Fruit Chan.
The other two films are from up-and-coming talents – action drama Disconnect'd, which is the second film directed by Wong Hing Fan, following i'm livin' it, and Chan Kin Long's debut feature, Hand Rolled Cigarette. All three films are currently in production.
Starring Lam Ka Tung and Bipin Karma, Hand Rolled Cigarette tells the story of a retired soldier, formerly in the British colonial army, who agrees to store drugs for a South Asian small-time crook. The two men bond when they realise they are both leftovers from a long-gone colonial past, but loyalties are tested when it's revealed that the drugs have been stolen from an underworld kingpin.
Produced by Lawrence Ah Mon and Cherrie Lau, the film has been supported by Create Hong Kong's First Feature Film Initiative (FFFI). Chan Kin Long is an actor-turned-filmmaker, who starred in films such as Fruit Chan's The Midnight After and Philip Yung's Port Of Call, before turning his hand to directing short films.
Wong Hing Fan made his debut last year with i'm livin' it, starring Aaron Kwok as a banker fallen on hard times, which premiered at Tokyo International Film Festival and is being lined up for release next month.
Kwok also stars in Disconnect'd as a cyber security engineer who develops a powerful AI programme, but then has to prevent it falling into the wrong hands. Produced by Soi Cheang for Sil Metropole and Entertaining Power, the film also stars Lam Ka Tung, Megan Lai, Simon Yam and Patrick Tam.
Also currently in production, Fruit Chan's horror anthology tells three stories about how Hong Kong's soaring property prices convince some people that it's not so bad living under the same roof with the dead.
The three stories follow a real estate broker, who gets more than he bargained for when he sells a haunted apartment; four sisters who have dubious motives in mind when they gather round their dying mother's sick bed; and a landlord, whose scheme to make more money is sabotaged when a deceased tenant refuses to leave his property.
Produced by Chan's Nicetop Independent, the film stars Wong You Nam (The Midnight After), Susan Shaw (Gallants), Cheung Tat Ming (i'm livin' it) and Tai Bo, who recently won best actor at the Hong Kong Film Awards for Suk Suk.